Please pray for the people of Ukraine and Russia. Pray for all those who are suffering and terrified in this moment. May the Body of Christ in Ukraine be able to respond to those who are suffering, give the comfort of Christ, and to remain faithful in their witness.
Updates:

May 12, 2022 at 5:45 PM (PST): Inna Tsaruk, an FEBC Ukraine broadcaster, recently shared this video calling for renewed prayer for Ukraine:
May 11, 2022 at 10:10 AM (PST): Here is an update from Evgeny, who is the host of an FEBC Ukraine program for soldiers and civilians affected by conflict. This program was originally created back in 2014 for those who lived in eastern Ukraine, where Russian-backed separatists launched an offensive to try and seize parts of Eastern Ukraine for Russia. Now, however, this program is targeted to all Ukrainian soldiers and civilians affected by the conflict raging throughout the country.
Evgeny recently visited Ukrainian soldiers in eastern Ukraine: "We prayed with them, encouraged them, and distributed New Testaments and prayer booklets with the number of our prayer helpline," said Evgeny. Evgeny records these soldiers' stories and shares them on his program. He also brings on experts who can help those affected by the war begin to heal from their trauma. "We reach out to those who are hurting with the love of Christ…Thank you for praying for us as we minister! And thank you praying for our soldiers!"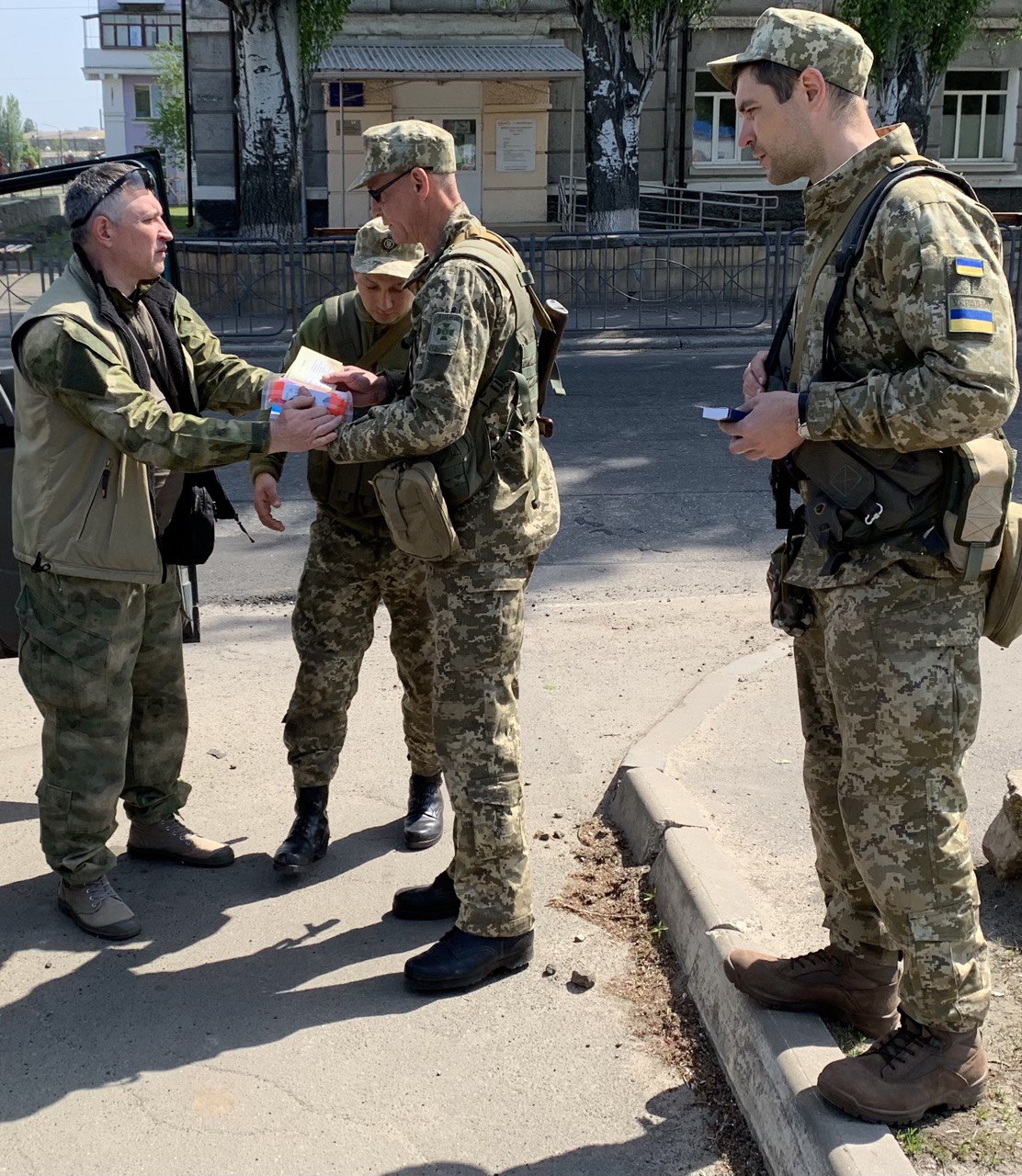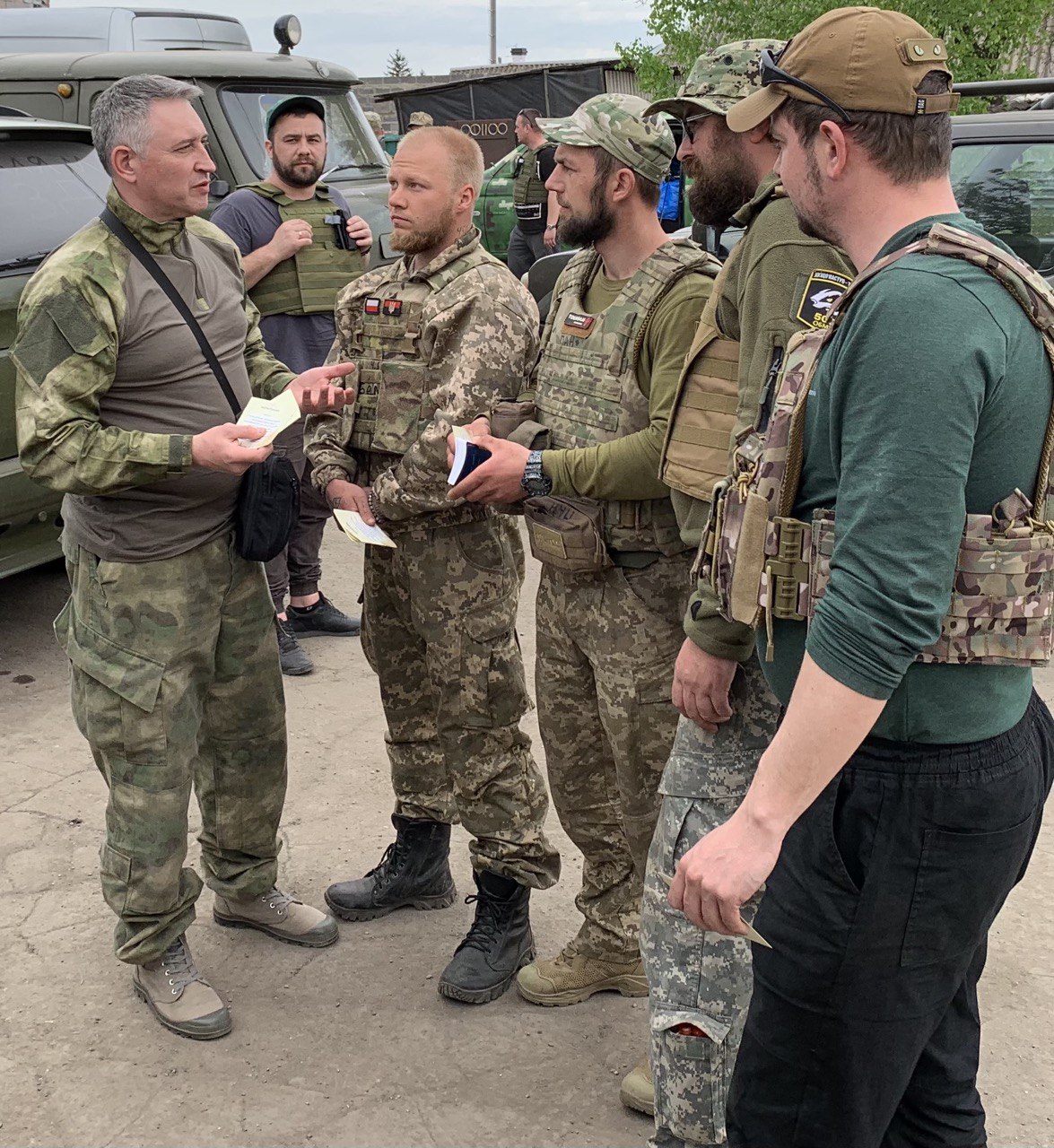 May 5, 2022 at 1:35 PM (PST): Pastor and Senior FEBC Ukraine broadcaster, Sergey Nakul, recently shared this video to us from a destroyed church in Irpin, Ukraine:

May 4, 2022 at 2:55 PM (PST): Igor Sereda, FEBC Ukraine's Assistant Program Director and broadcaster, recently shared this video from the embattled city of Mykolaiv:


April 27, 2022 at 2:27 PM (PST): Great news! We were able to open the station and begin broadcasting in Zaporizhzhia on the air sooner than expected. Despite many obstacles, technical difficulties, the absence of internet connectivity, bureaucratic issues, and with the help of many volunteers, FEBC Ukraine is now airing in Zaporizhzhia on 88.8 FM. Praise God!
This brings our total active Ukraine station count to six, with two remaining offline due to the ongoing conflict. The new station in Zaporizhzhia now has the largest reach in the entire country. Thank you for your prayers and your support of the ministry! Please pray that this station reaches many more listeners with the Good News!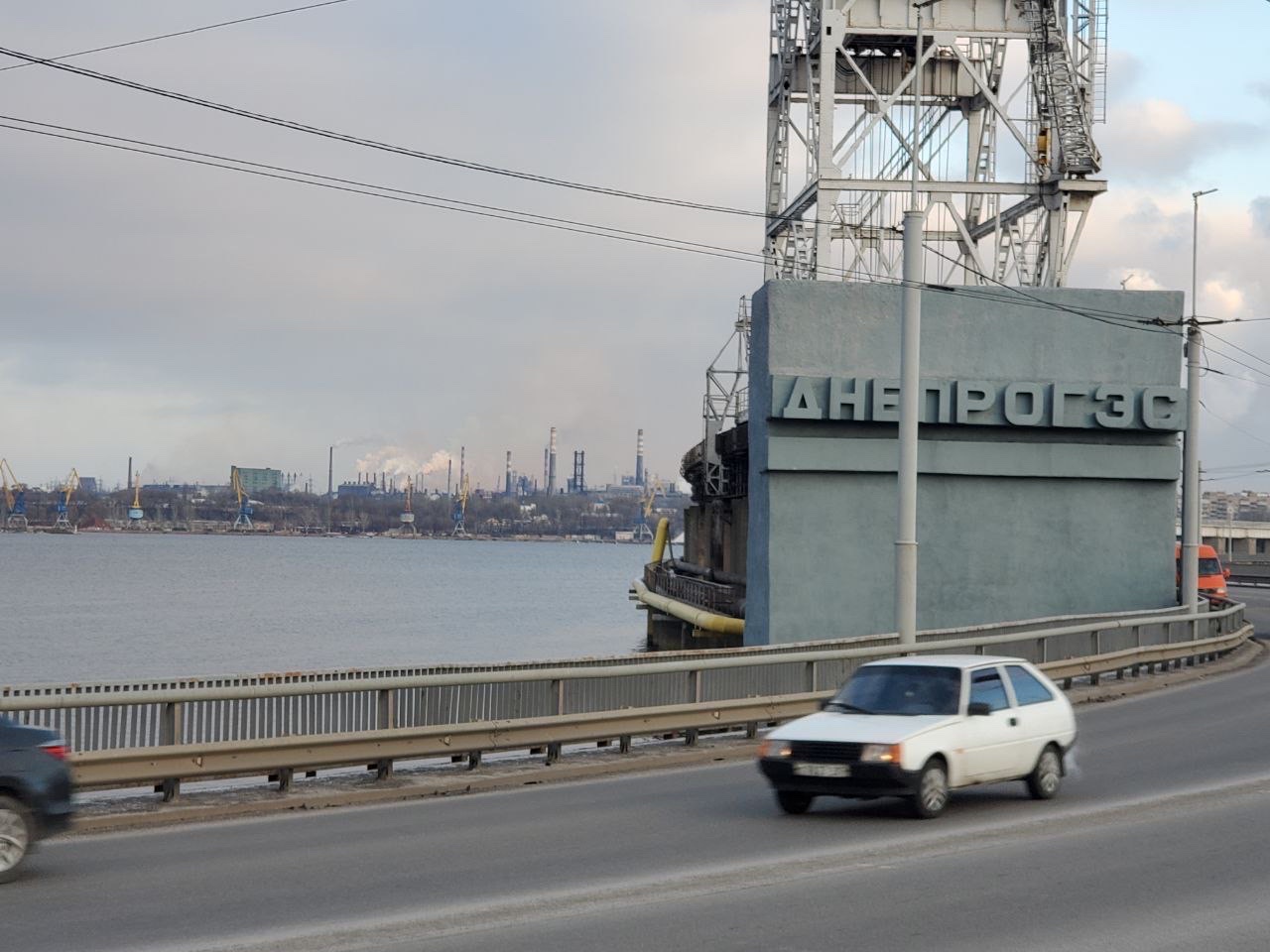 April 22, 2022 at 11:15 AM (PST): FEBC Ukraine Ministry-Wide Update: All FEBC Ukraine staff and their families are still safe, Praise the Lord! Pastor and Senior FEBC Ukraine broadcaster, Sergey Nakul, is still in Kyiv and safe, but is currently unable to send us periodic updates as he was before.
Five out of the seven stations are still up-and-running and plans are still ongoing to establish the new station in Zaporizhzhia. Our staff have been on the move recently, with ministry occurring in several areas surrounding Kyiv and some other parts of the country where Russian forces are no longer as active.
Please continue to lift up our broadcasters' safety, as they often put their lives on the line to keep the Gospel on the air, and to minister to those in war-torn areas.
April 21, 2022 at 5:18 PM (PST): Igor Sereda, FEBC Ukraine's Assistant Program Director and broadcaster, was able to travel to Kyiv after Russian forces retreated from the area recently, and filmed this video while inside our broadcasting center:
April 19, 2022 at 1:25 PM (PST): For FEBC Ukraine's prayer helpline counselors, this Easter season is one that has been filled with both suffering and joy. Listeners who have experienced tragedy and are living in fear, call with terrible stories, asking for prayer. What is incredible is that they are finding hope and encouragement as they turn to Jesus, many of them for the first time. Read more about how FEBC Ukraine is helping people find hope in Jesus during this crisis.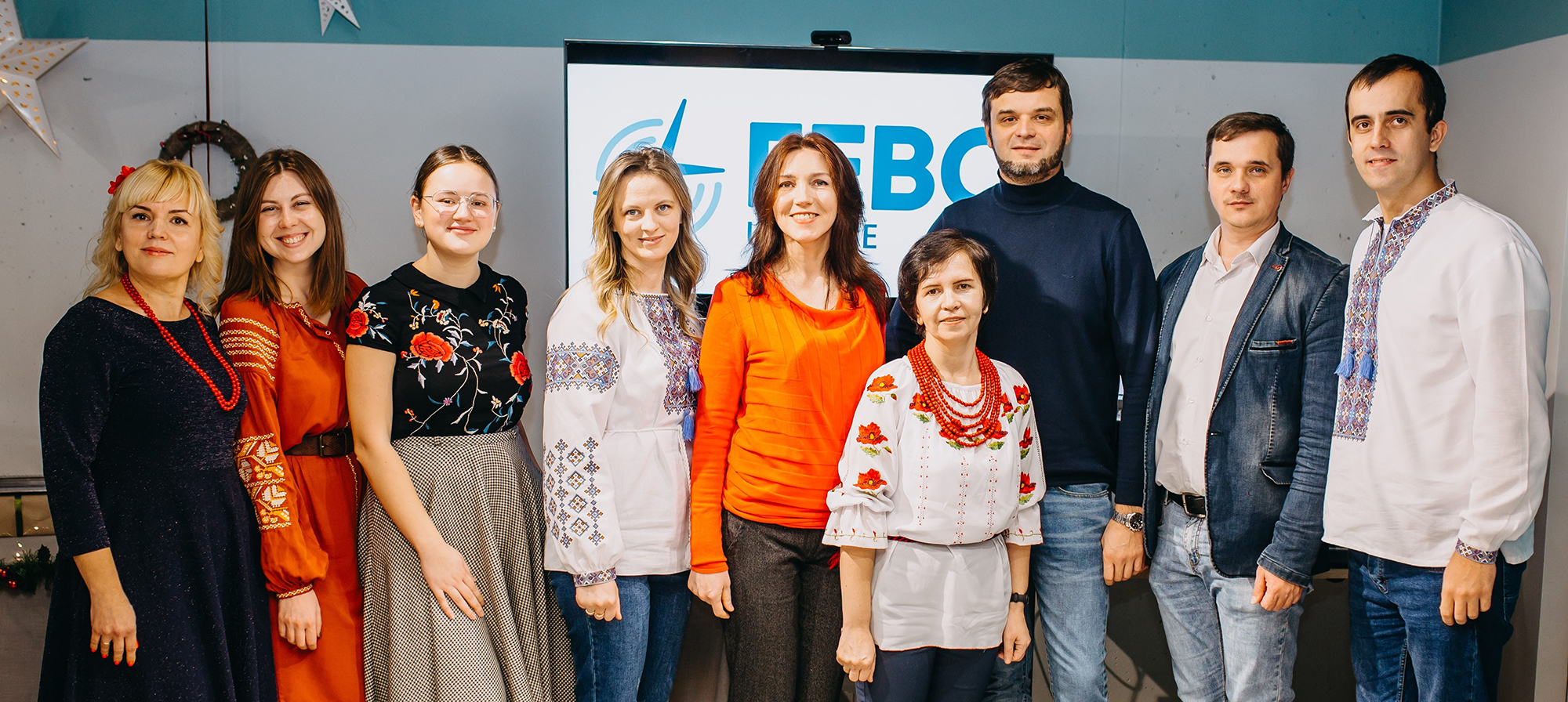 April 14, 2022 at 1:35 PM (PST): As Russian forces began to pull back from the outskirts of Kyiv, the atrocities perpetrated by the Russian military in these areas have made international headlines. Igor Sereda, FEBC Ukraine's Assistant Program Director and broadcaster, recently traveled to Bucha, and several other small towns right outside Kyiv. Igor shared:
"After spending the day visiting these devastated cities, I've started getting used to seeing destroyed buildings, destroyed apartments, tanks, broken glass, dogs running in the streets—it's like we are living in a post-apocalyptic movie.
"People, on the other hand, have really surprised me! People have joyfully come to these cities, cleaning up and repairing the streets. Hundreds of volunteers who wanted to help! I'm inspired by the faith of our people!
"While seeing this destruction has been saddening, it's people that are truly important. It will be much harder to rebuild the thousands of broken hearts than to rebuild these buildings. But this is possible with God's help!"
Pictured below are several scenes of destruction, taken by Igor, from the Kyiv outskirts: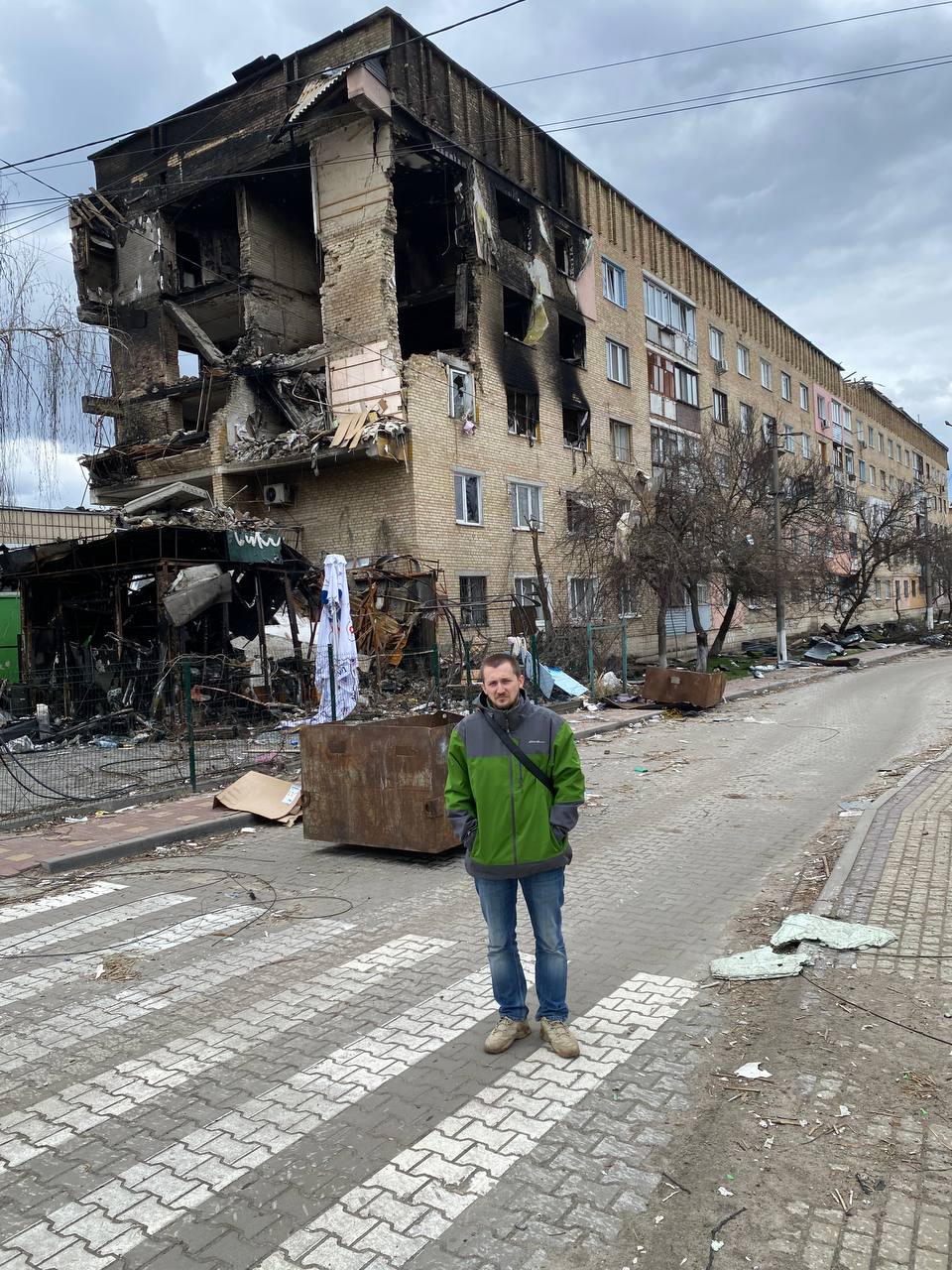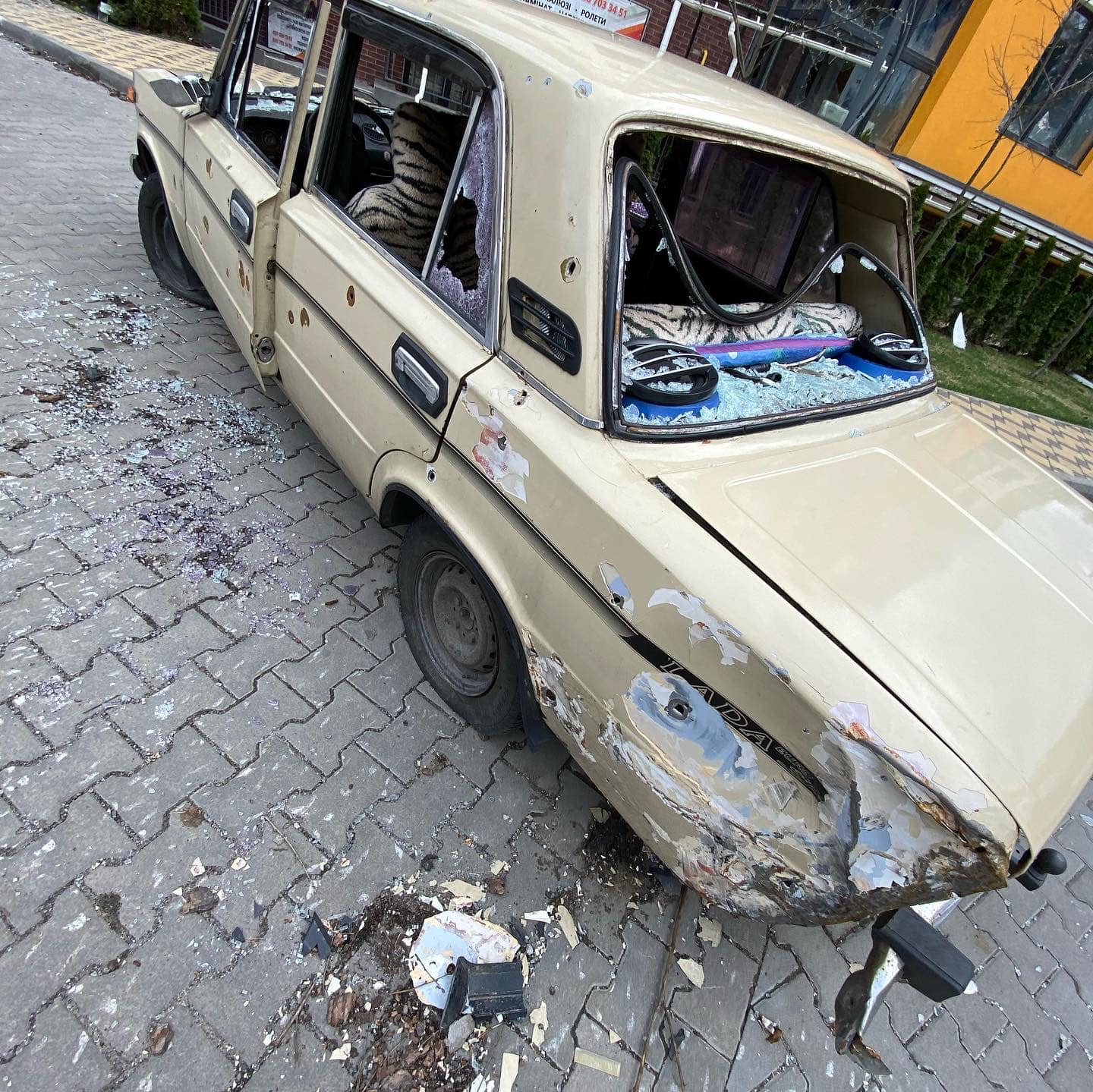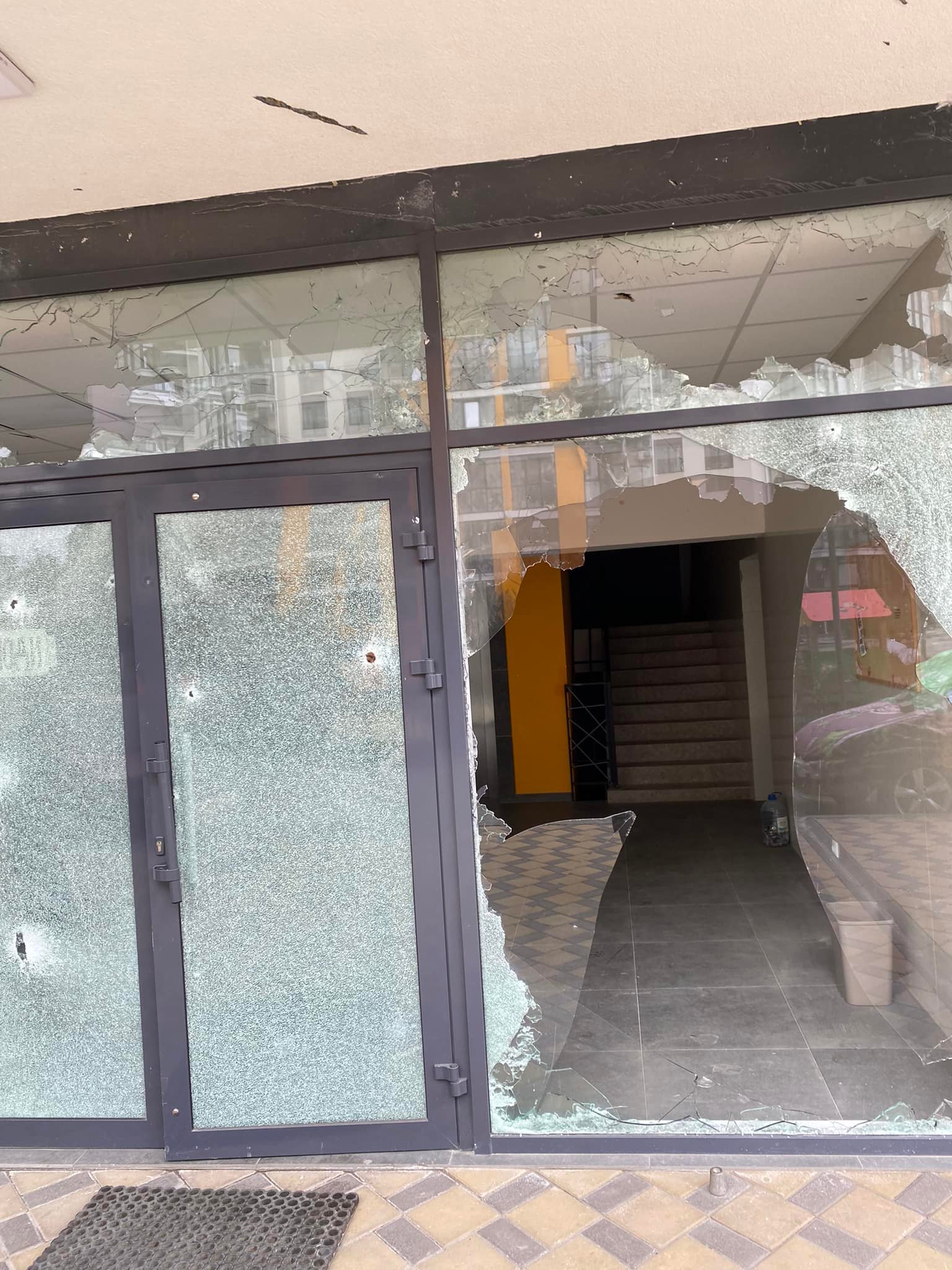 April 12, 2022 at 7:28 AM (PST): Igor Sereda, FEBC Ukraine's Assistant Program Director and broadcaster, traveled to Lviv, Ukraine to minister to refugees fleeing the conflict in other parts of the country. Here's a video from Igor, sharing the work being done:
Also, be sure to check out the most recent Ukraine staff prayer profile, which features Igor and how you can pray for him and his family.
April 7, 2022 at 3:50 PM (PST): Natalia Bradarskiy and her son, Ivan, were recent guests on an FEBC Ukraine program, talking to listeners and sharing advice on how to survive difficult times with the Lord's help.
The Bradarskiy family is especially equipped to talk about this topic, because they have lived through the horrors of war before. In 2014, Russian-backed separatists started offensives in eastern Ukraine, including Sloviansk, where the Bradarskiys live. Natalia's husband, Viktor, was killed in the initial attack. He was one of four FEBC Ukraine volunteers who were taken captive by rebel soldiers and later murdered for their faith. Viktor was one of our most joyful volunteer broadcasters. He was in the studio every Monday, sharing Jesus with his listeners.
After initially leaving the region in 2014, the Bradarskiy family made the difficult decision to return home to minister to the people there—not just the Ukrainians who were suffering under the invasion, but even to the Russian separatists who were still there.
Natalia and her family understand very well what many people across Ukraine are experiencing today. They have felt the stinging emotions of fear, grief, and anger. But they also experienced abundant outpourings of God's love and support from fellow believers, friends, and neighbors.
Now the Bradarskiys are helping others who are hurting experience love, healing, and hope through the knowledge of Jesus Christ. They are living examples of the power of forgiveness.
Pictured below: 1) Natalia and Ivan on one of FEBC Ukraine's broadcasts, 2) A memorial for the FEBC volunteers who were killed in 2014 by Russian separatists; 3) A photo of Viktor's plaque at the memorial (top photo)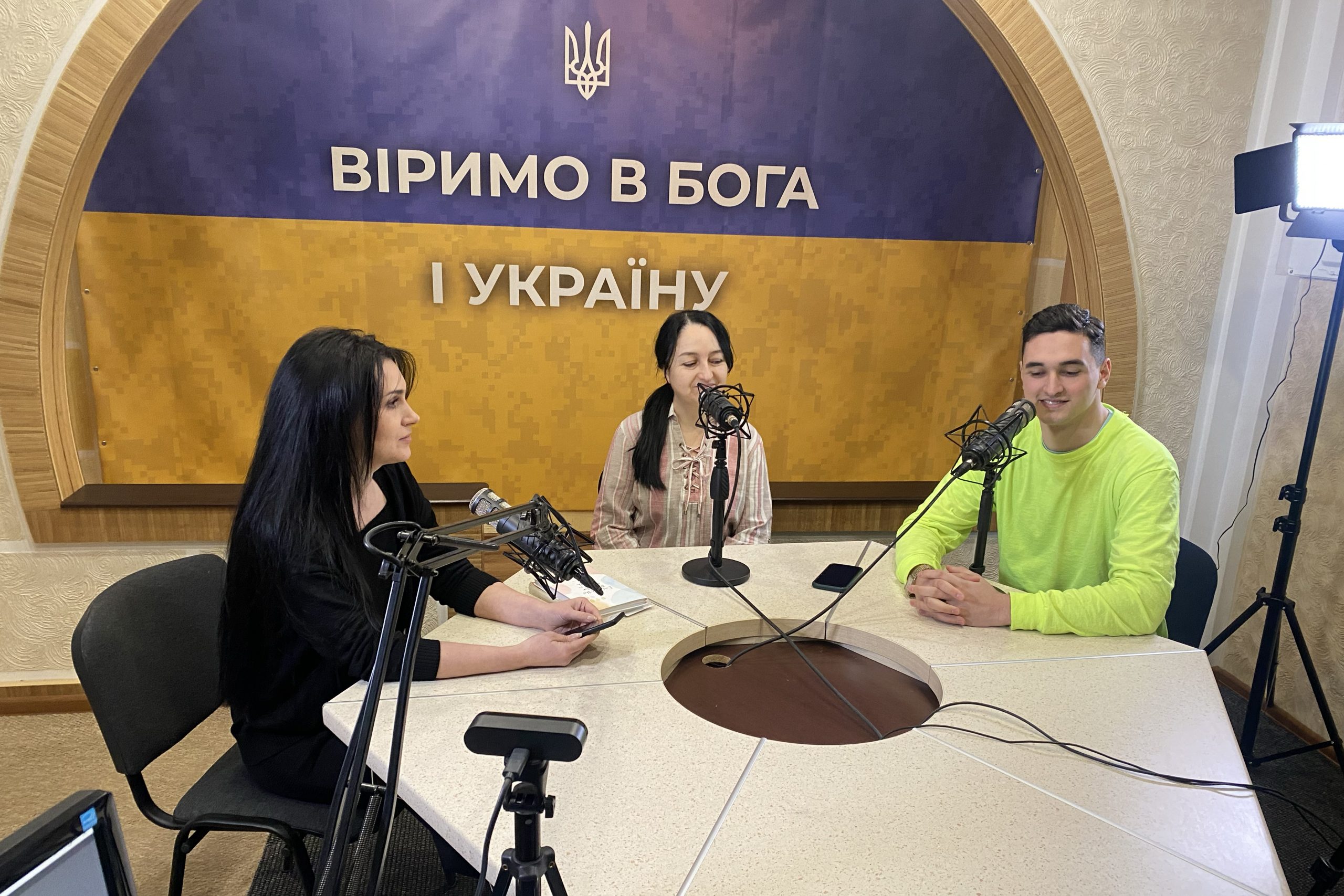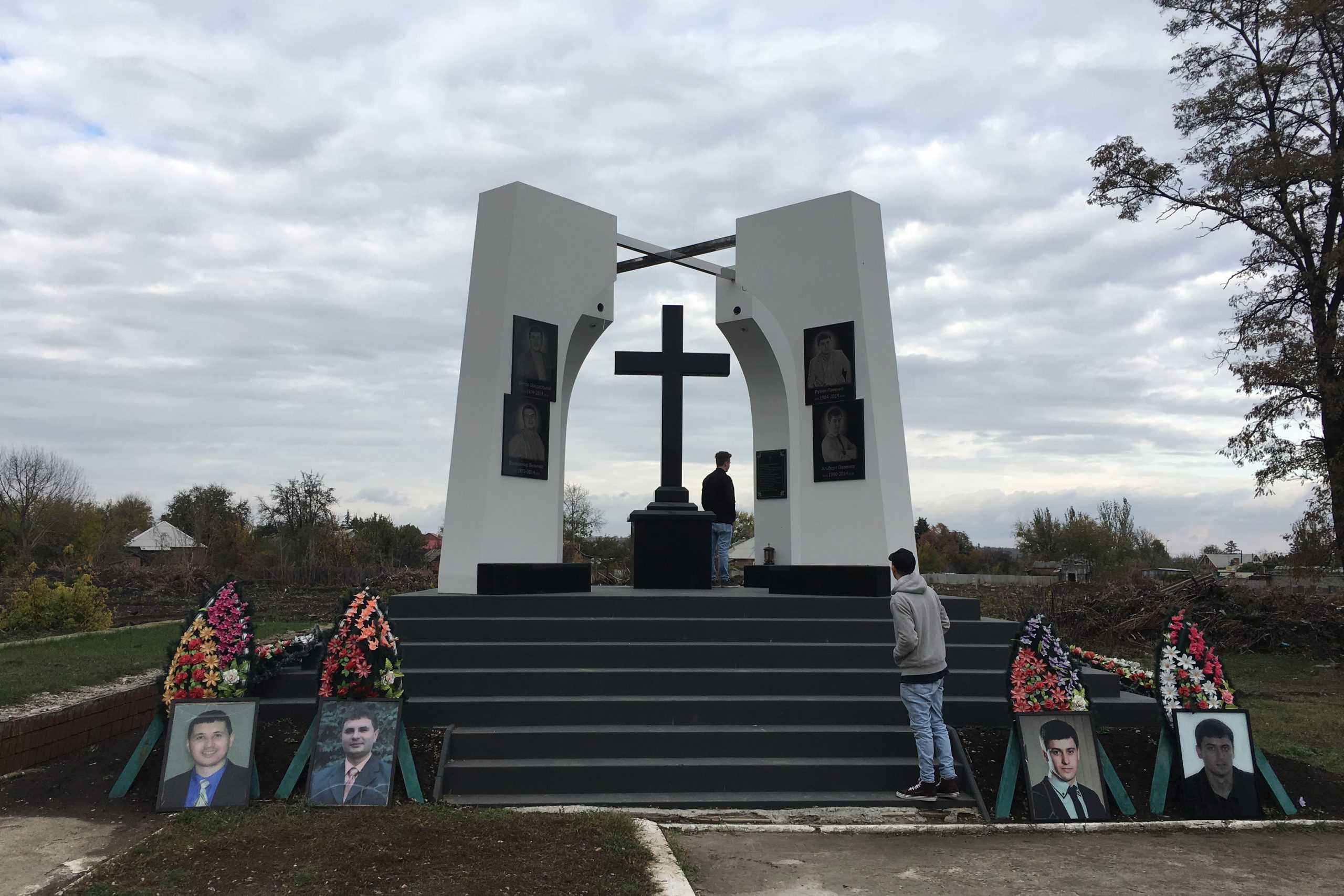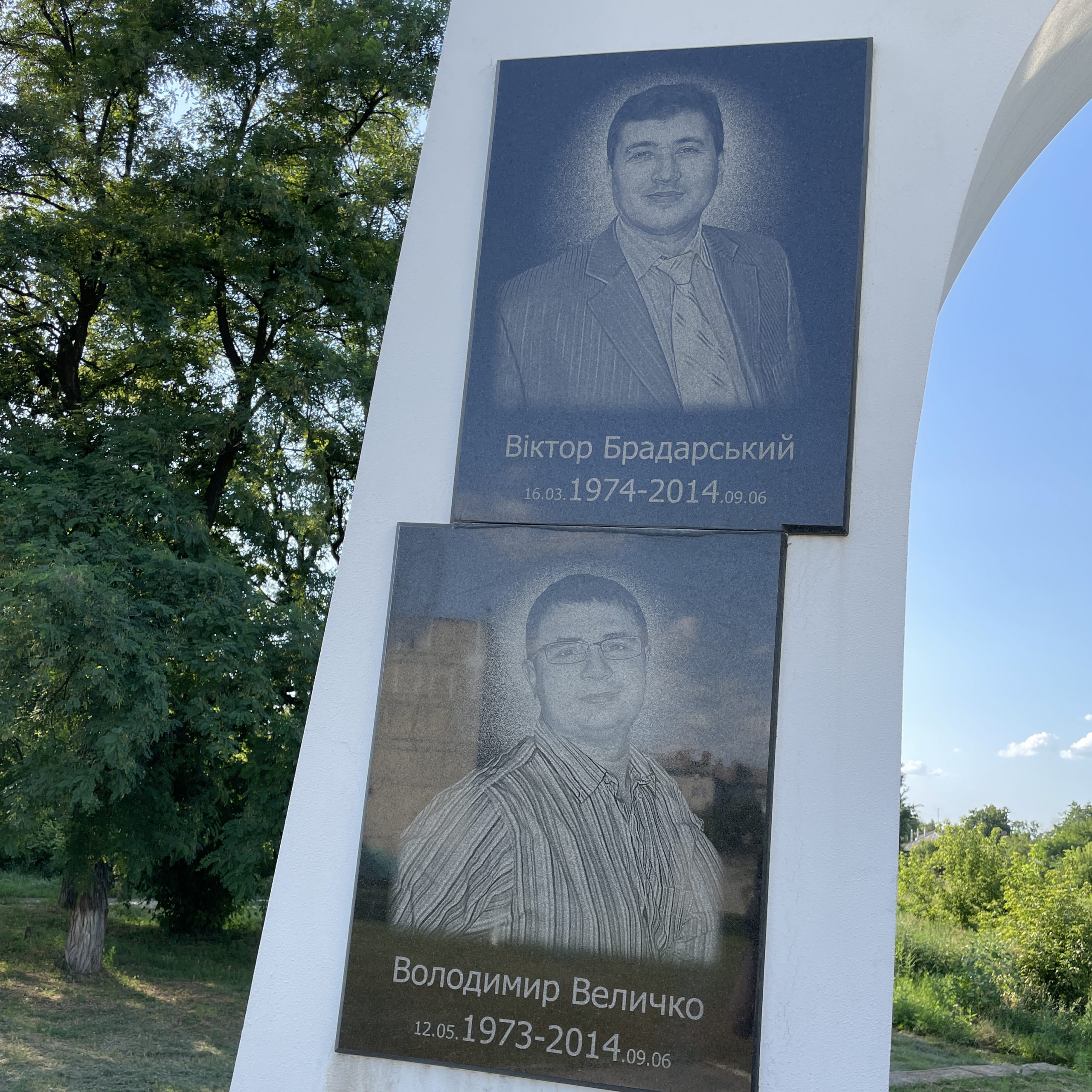 April 6, 2022 at 1:30 PM (PST): FEBC Ukraine Ministry-Wide Update: Praise the Lord, all FEBC Ukraine staff, volunteers, and their families are currently safe and in good health. Our broadcasters are still scattered throughout the country. Some, like Sergey Nakul, are still in active war zones such as Kyiv. Many others fled their homes in more dangerous regions early on in the conflict, and safely made it to more secure locations.
Most of the FEBC stations in Ukraine are still on the air and reaching millions, despite the bombing of many cities in which we are ministering. As of now, five of our seven existing radio stations are still on the air. Two smaller stations in Eastern Ukraine were taken off the air. One in Luhansk was recently captured by Russian forces who began broadcasting propaganda. There are also plans to launch one new station in Zaporizhzhia, which was planned before the war started. When this station is launched, it will have the greatest reach in the entire country. In addition to this, the internet ministry of FEBC Ukraine is thriving. Thousands of people have been tuning in, looking for hope in the midst of this crisis.
Friends, we are extremely grateful for your prayers and the impact they have had on all of our staff. The fact that everyone is still safe and the majority of the broadcasts are still going out is incredible. Please continue to keep the ministry and country of Ukraine in your prayers as the conflict continues.
April 4, 2022 at 8:45 AM (PST): Please continue to pray for our brave local broadcasters in Ukraine; especially for Max and Inna, who we are highlighting this week. Click here to view all of the staff profiles so far, and join us in praying for this team and their unique prayer requests.
April 1, 2022 at 12:05 PM (PST): Evgeny, a popular FEBC Russia broadcaster, offers listeners life advice on topics ranging from how to handle marital issues and work problems, to dealing with serious medical diagnoses. He has also published content to help Ukrainian people who are dealing with trauma, stress, fear, and panic attacks. Evgeny does all of this from a Christian perspective, often praying for people on the air and inviting them to get to know God for themselves. Many people said they prayed for the first time after watching his program.
Today, many Russians are overwhelmed by an enormous amount of ideology, propaganda, and hatred coming out of their secular media. People are confused and disoriented, and they are looking for something that is much deeper than political rhetoric, which Evgeny's programs provide. Recently, one of Evgeny's broadcasts received over a million views on a single social network platform. This is the most views ever for a program from FEBC Russia.
"God is blessing us!" said Evgeny. "Even as [Ukraine and Russia] face these unbelievable circumstances, we are able to minister now more effectively than ever!"
Below, Evgeny can be seen broadcasting 1) from home, on several social media and streaming platforms, all at once, and 2) from the studio in Russia.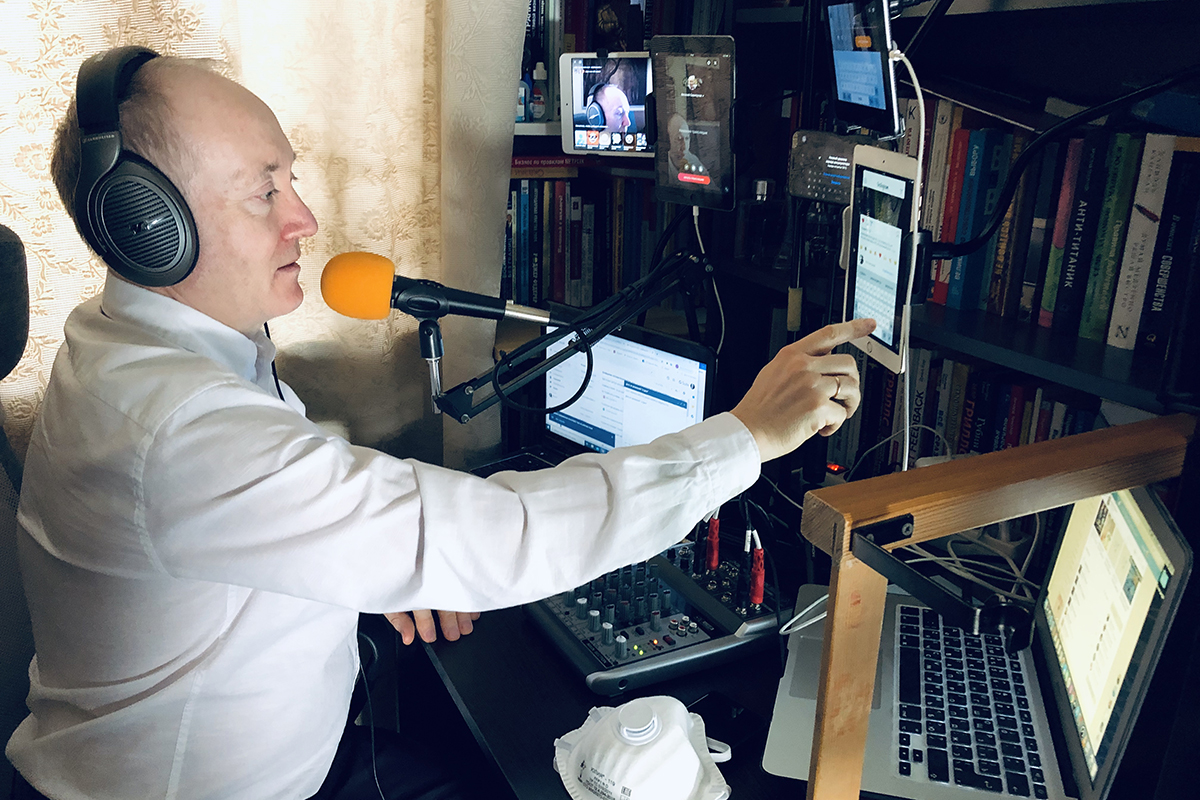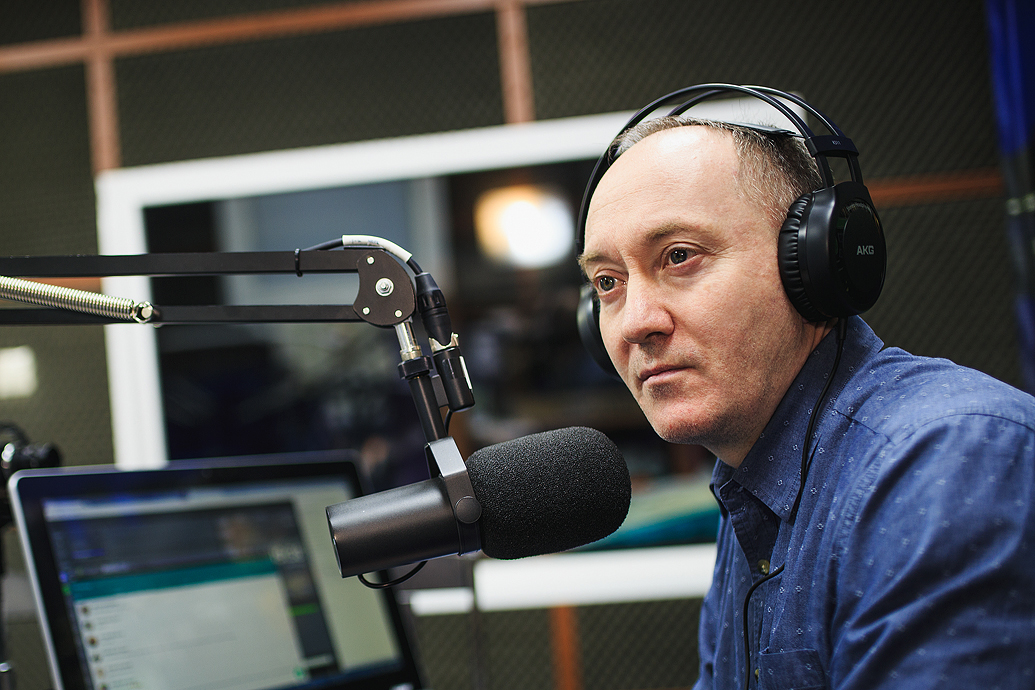 March 31, 2022 at 1:35 PM (PST): FEBC Ukraine is working closely with churches in the Sloviansk area (eastern Ukraine), helping them bring the Good News to people who are sick, jobless, and poor. So far, the region has been attacked mostly by bombing, however, residents are expecting fierce fighting to start any day.
Sloviansk is the city where four FEBC Ukraine volunteers were martyred for their faith during the 2014 attack. The sign seen below is "Sloviansk" in the Ukrainian/Russian languages. In 2014 when pro-Russian separatists attacked the area, the sign was hit with shrapnel and bullets. If you look closely, you'll see flowers were painted to cover the damage.
Please keep the people of this area in your prayers in the coming days.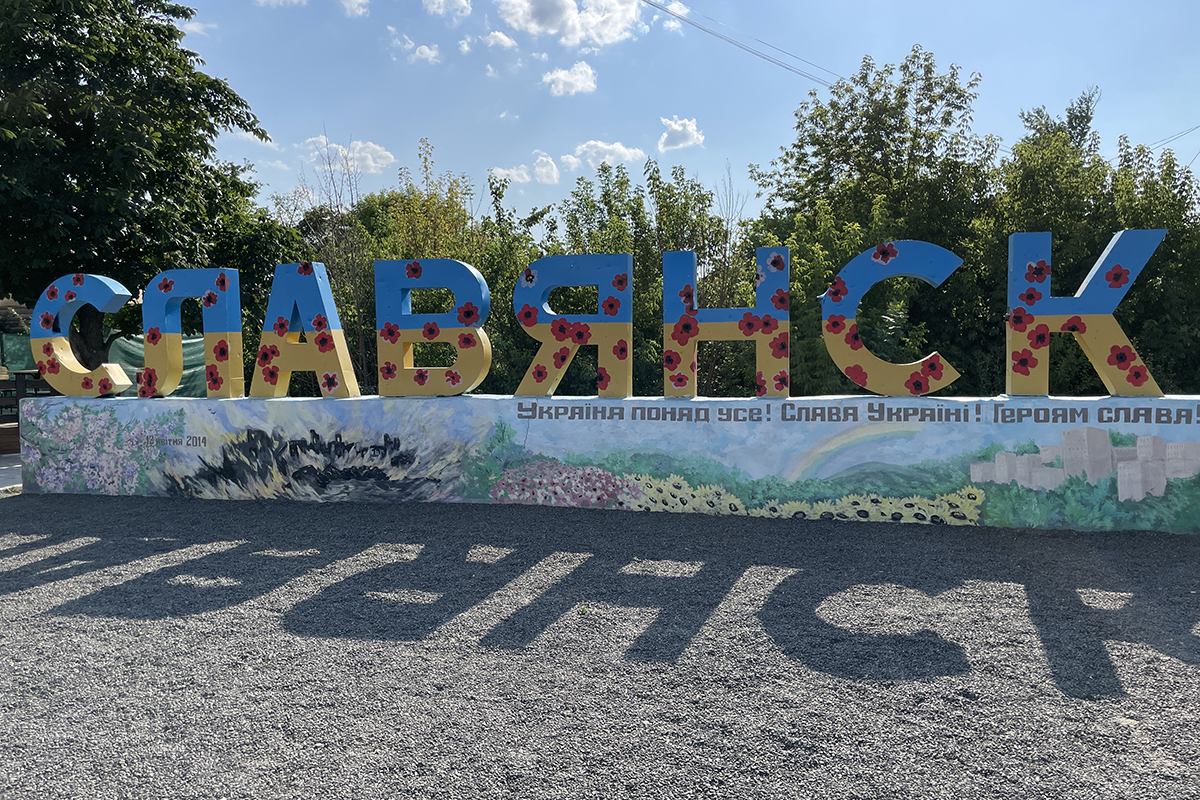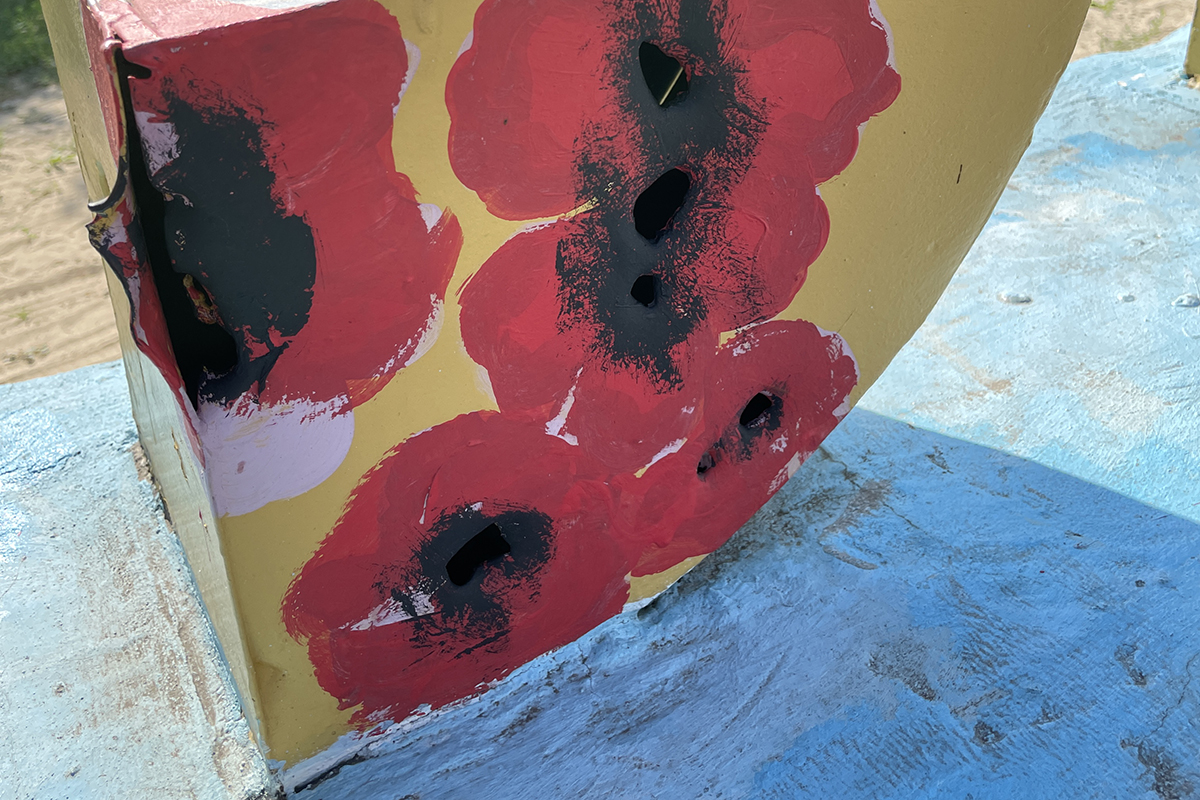 March 30, 2022 at 11:00 PM (PST): A few days ago, one of our stations in Ukraine was taken off the air when Russian forces captured and shut down the tower that was broadcasting FEBC Ukraine's programs into the long-occupied Luhansk region.
Listeners there have long been living in poverty and lawlessness, with little freedom. Kidnapping and abuse of women are everyday threats. Many churches closed and now must meet in secret. As a result, many other ministries have left the region.
Conditions have only grown worse since the war began. One scared listener recently wrote, "[We've had] no water for three weeks. People are being drafted [into the army] against their will…"
Please pray for our listeners in Luhansk who are living through an extremely frightening and dark time.
Mar 30, 2022 at 5:00 AM (PST): Pastor and Senior FEBC Ukraine broadcaster, Sergey Nakul, has seen all kinds of destruction. He has been traveling around Kyiv, speaking to soldiers, and helping take care of families, the displaced, and the elderly. Sergey says: "We have a saying, 'When sorrow comes, you'll find out who your true friends are.' I can tell you that this is definitely true of the Word of God! In these times of sorrow, the Word really is like a faithful friend who will not leave you or abandon you! Only Jesus has the answers to the fear, pain, and grief people are experiencing right now…Thank you to everyone who is praying for us!" Sergey shared several photos of the things he is seeing daily: 1) a bombed-out bus; 2) all that remains of a bus station; 3) Sergey holding a New Testament which he uses to help share the Gospel, daily, with soldiers and others who remain in Kyiv.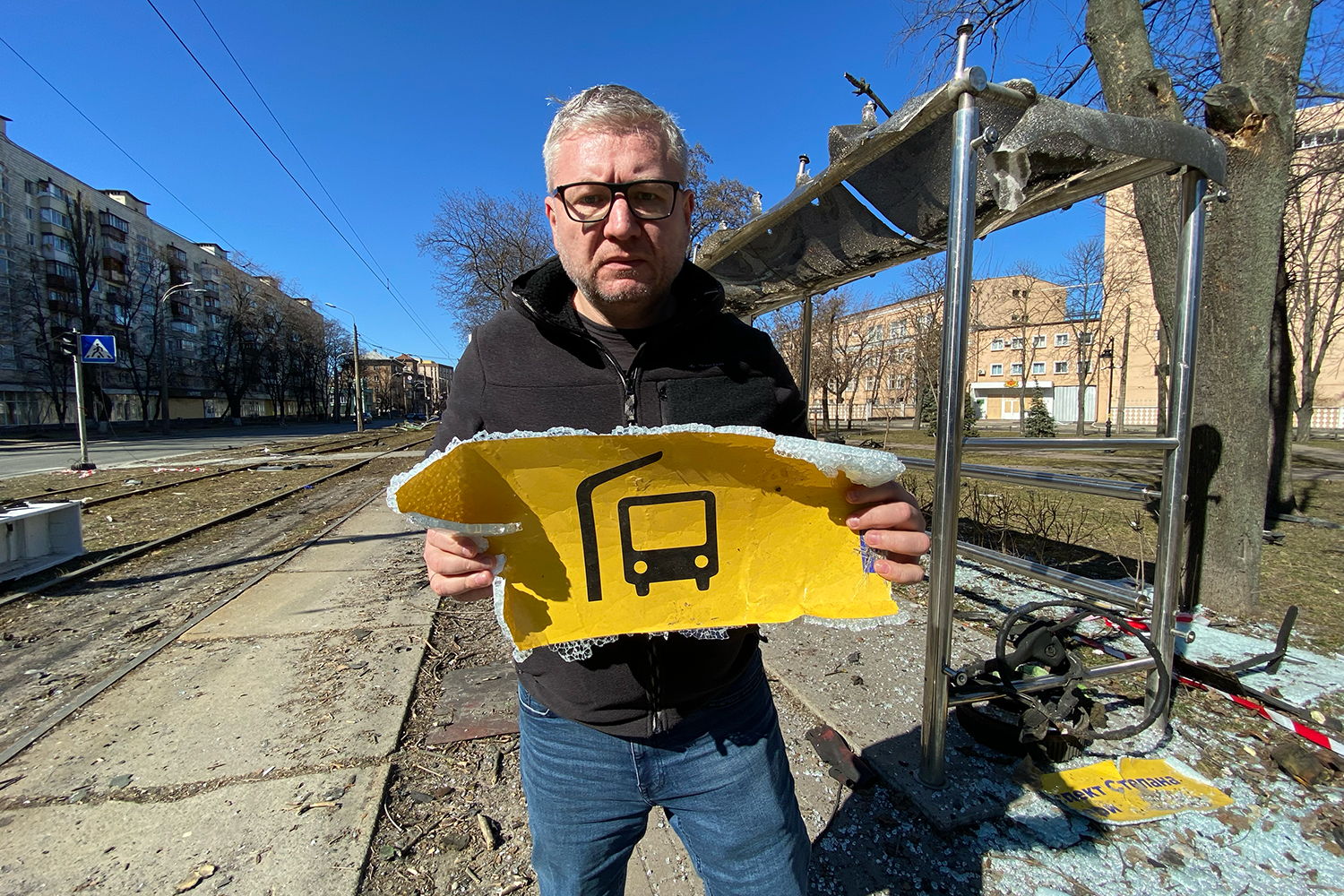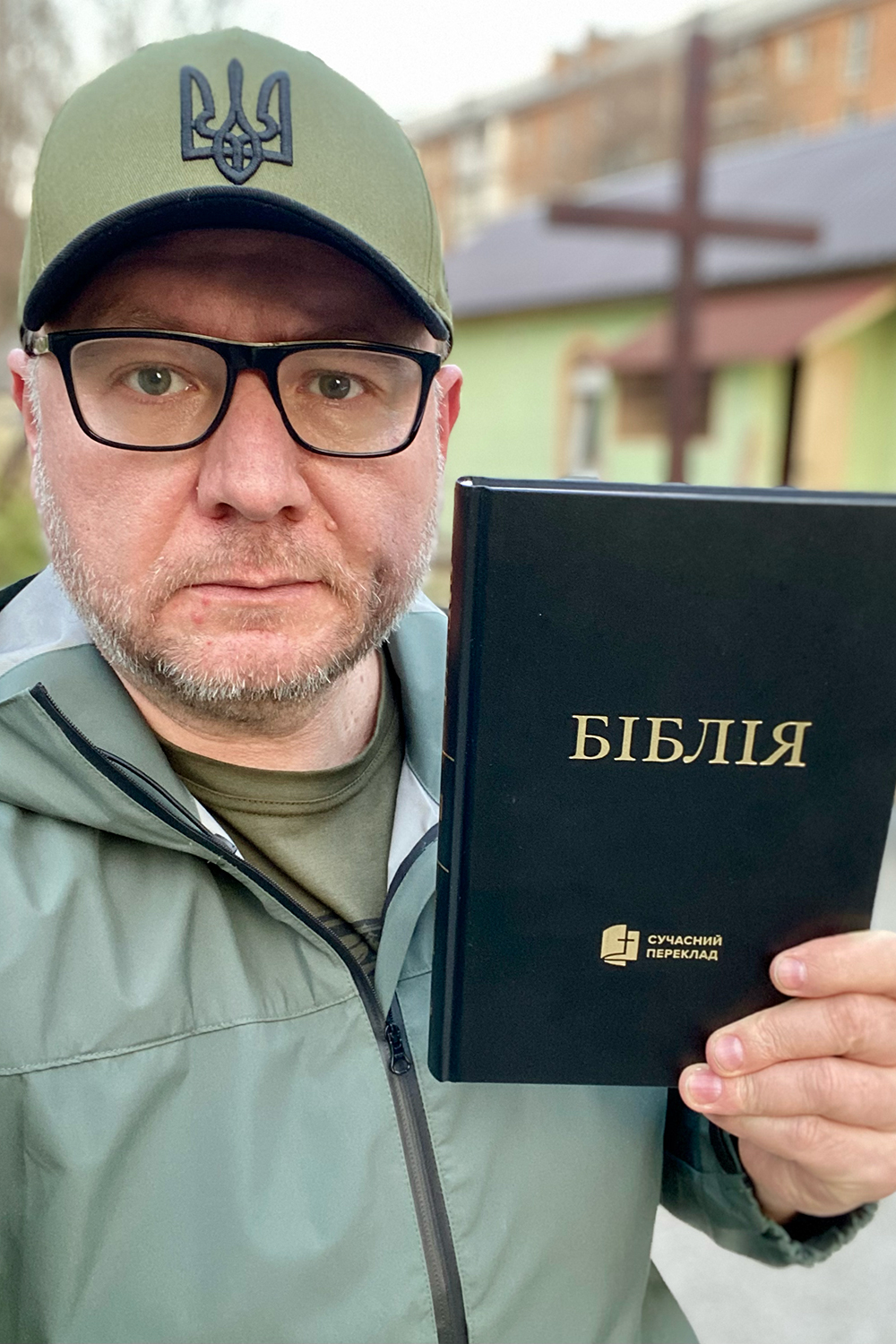 Mar 29, 2022 at 11:15 AM (PST): FEBC Broadcaster, Inna Tsaruk, has been holding nightly prayer meetings on social media during the war. Click here for several stories from listeners who wrote in to Inna's program. (Photos seen below: 1-2) Listeners share photos of themselves tuning in to Inna's nightly prayer meetings; 3) Inna broadcasting through Instagram live to host her prayer meetings).
Mar 28, 2022 at 2:15 PM (PST): Local broadcasters in Ukraine are going through countless crises every day. Each member of the team has unique prayer requests, which is why we are highlighting ways you can pray for individual broadcasters and their families. Click here to see how you can pray for Eduard, Iryna, and Alexandr and Nadia (more staff prayer profiles coming later this week).
Mar 25, 2022 at 1:30 PM (PST): Before the war, Eduard, Director of FEBC Ukraine, visited the Eastern-Ukrainian city of Zaporizhzhia to talk about establishing a new station. In the midst of war and crisis, God has opened the door to start broadcasting in Zaporizhzhia, on 88.8FM, within the next couple of weeks. Eduard is pictured below with Yakov, a pastor and partner who is helping us with the installation. The other men pictured below are from a local church in Zaporizhzhia, who FEBC Ukraine hopes to partner with to host new programs. The teams in Ukraine were able to send some equipment to one of our partners in the city who is helping prepare the new station. When it is launched, it will have the greatest reach of any of the stations FEBC Ukraine operates. Please pray for God's hand to be on this endeavor and for protection for the other six stations in Ukraine.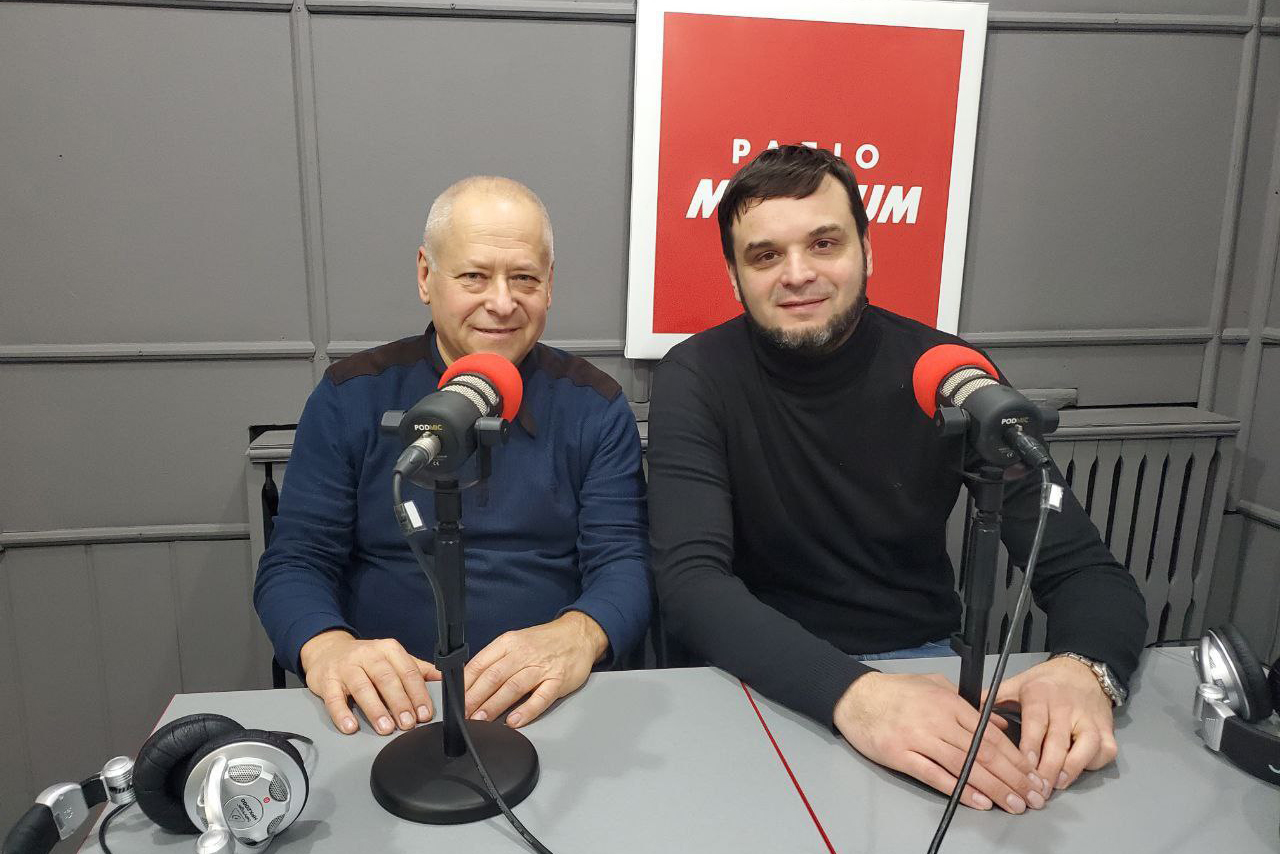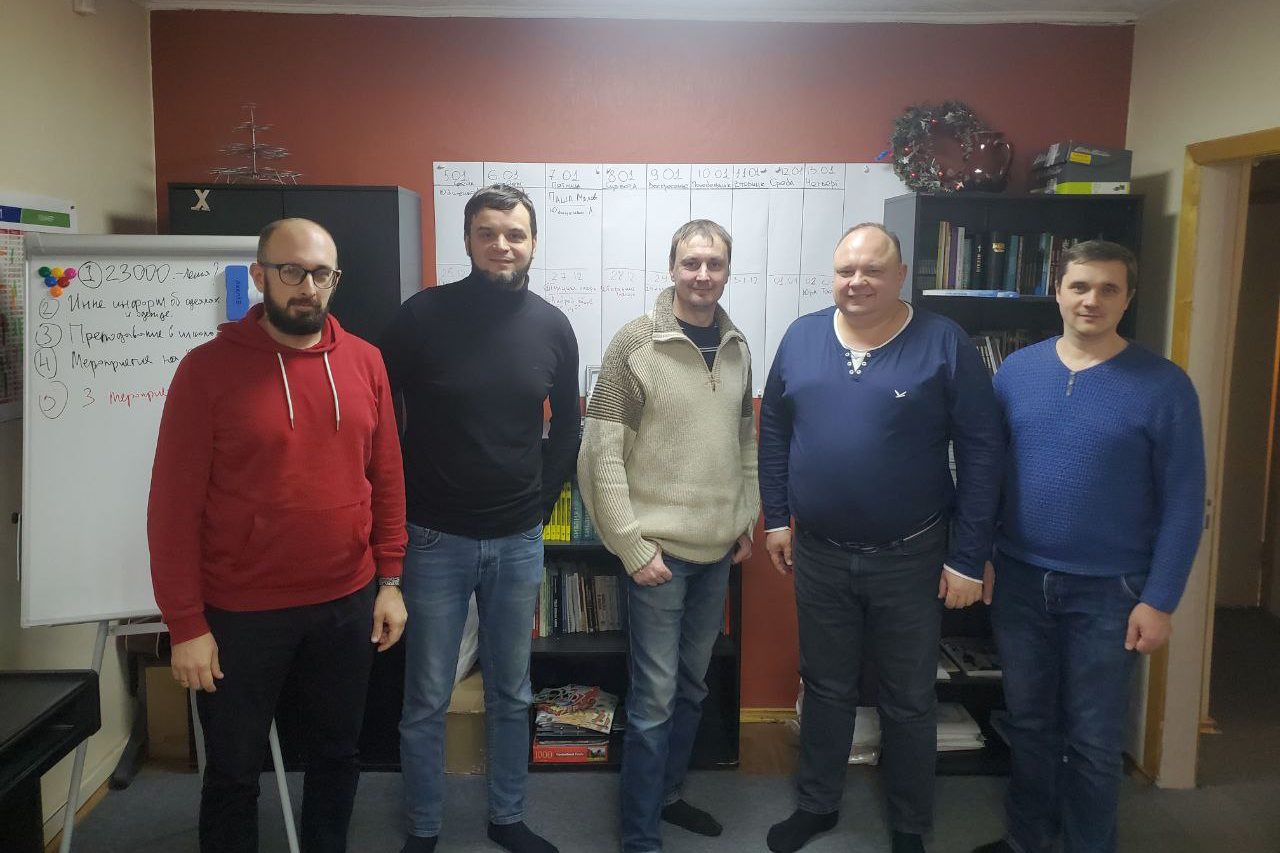 Mar 24, 2022 at 11:00 AM (PST): Our FEBC Ukraine director, Eduard, safely returned from picking up new equipment out of the country to improve the quality of FEBC-Ukraine's broadcasts. He also met with Ilya Bodnari (pictured on the left) who is organizing a new FEBC office*. This office will serve as a base of support for both Russia and Ukraine. Eduard and his family are now safely back in Ukraine. Thank you for your prayers!
*This office is temporarily located in an undisclosed location. It will provide safety and allow our team to continue to reach the people of Ukraine.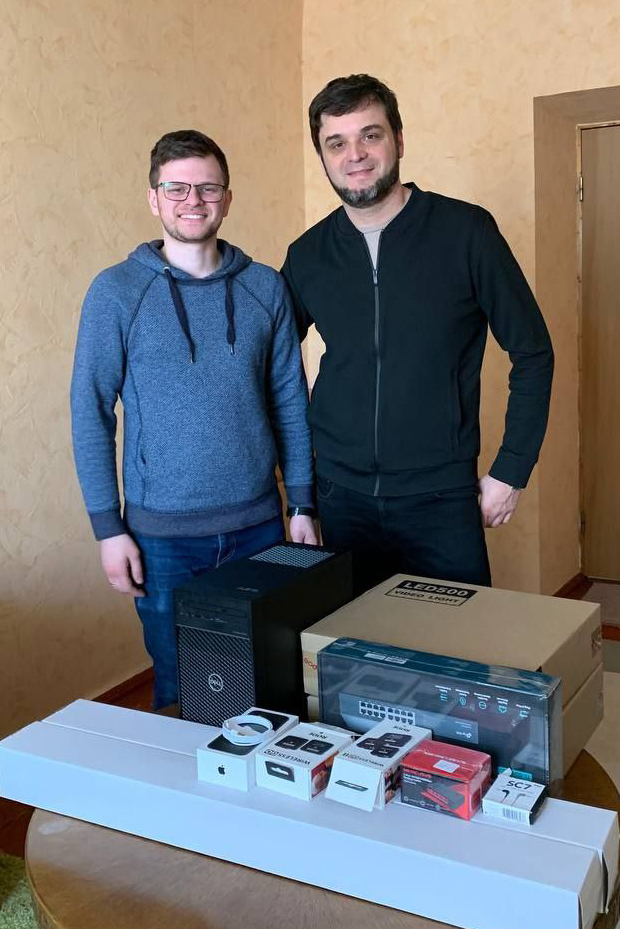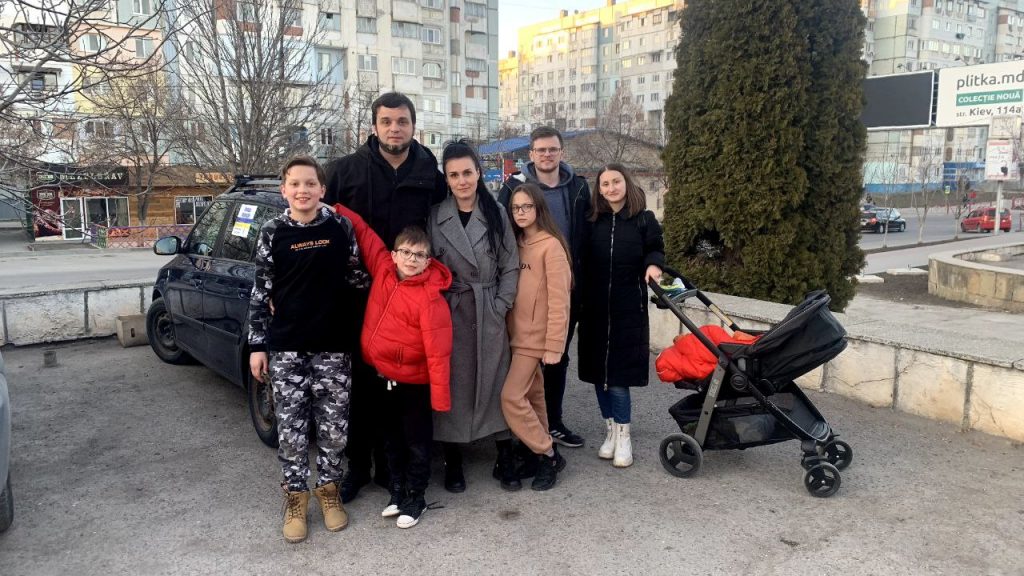 Mar 22, 2022 at 2:45 PM (PST): Pastor Sergey surveys damage to a shopping mall in Kyiv, and answers a question that has been on the minds of so many people in Ukraine: "What happens if I die?" Hear how Sergey answers this personally, and the advice he is giving others in Ukraine.
Mar 19, 2022 at 3:00 PM (PST): Russian soldiers are again moving towards Pokrovsk, where FEBC Ukraine recently opened a station (broadcast site pictured below). They fired missiles and artillery on several cities in eastern Ukraine earlier today and yesterday. Please pray for our listeners there and for God's Word to continue to go out and change people's lives, and for His protection over the people in Pokrovsk and in eastern Ukraine.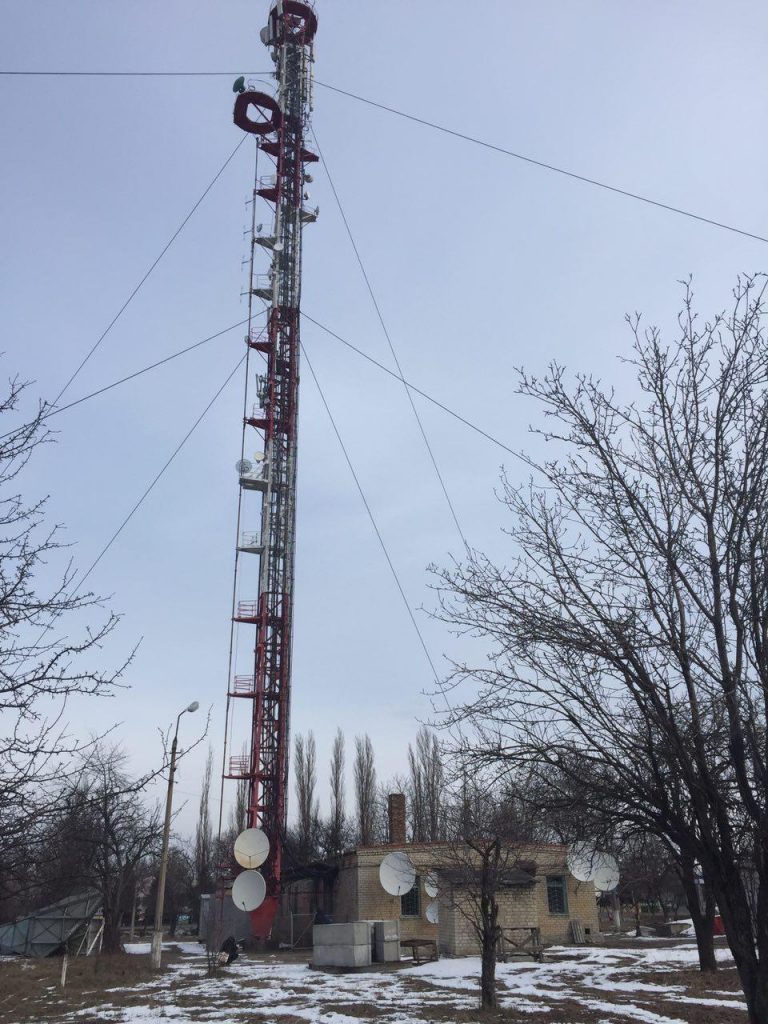 Mar 17, 2022 at 1:30 PM (PST): Pastor Sergey Nakul is still in Kyiv, ministering to those who have remained in the city. Many are asking, "Aren't you afraid to be in Kyiv, right now?" This short video is his powerful response to how he deals with the fear he feels.


Mar 16, 2022 at 11 AM (PST): Good news from the eastern part of Ukraine. Our radio station in Slovyansk is back on the air! A few days ago it was damaged in a military strike, but it was repaired today by brave workers … in the middle of a war zone! Praise God! We are now broadcasting the Gospel on six radio stations once again. Please keep praying for our team. Even in away from Kyiv, our broadcast team frequently has to leave their work or their beds in the night when the sirens go off warning of incoming missiles or artillery bombardment. Here are pictures of what life is like for our broadcasters and families in these moments.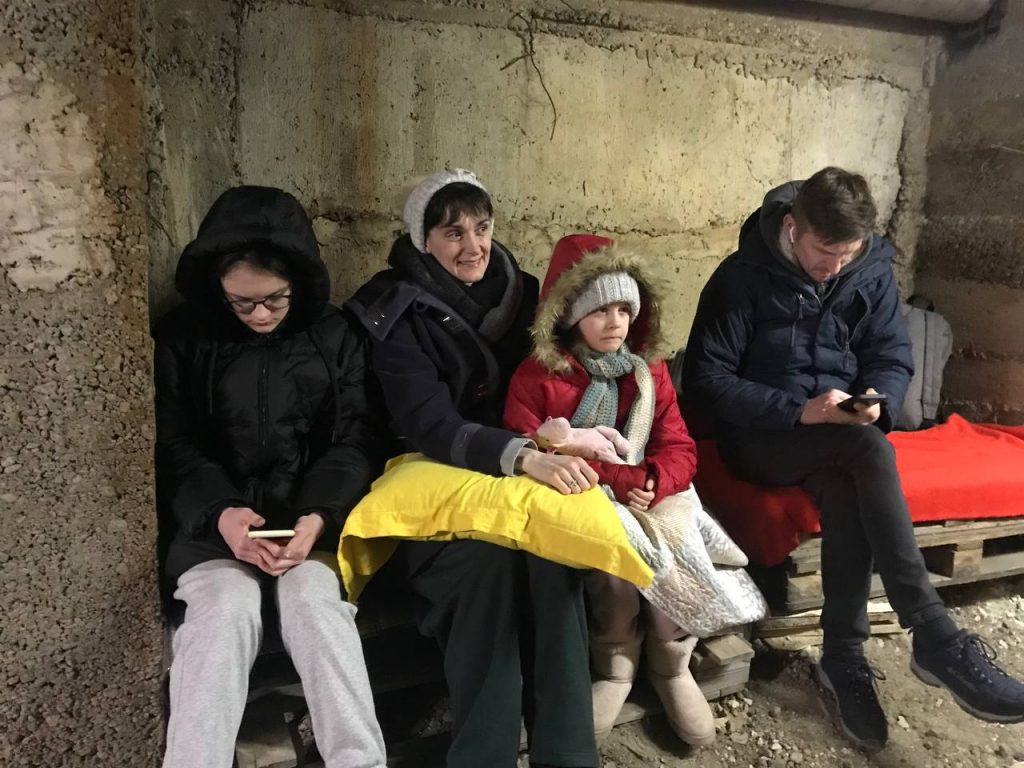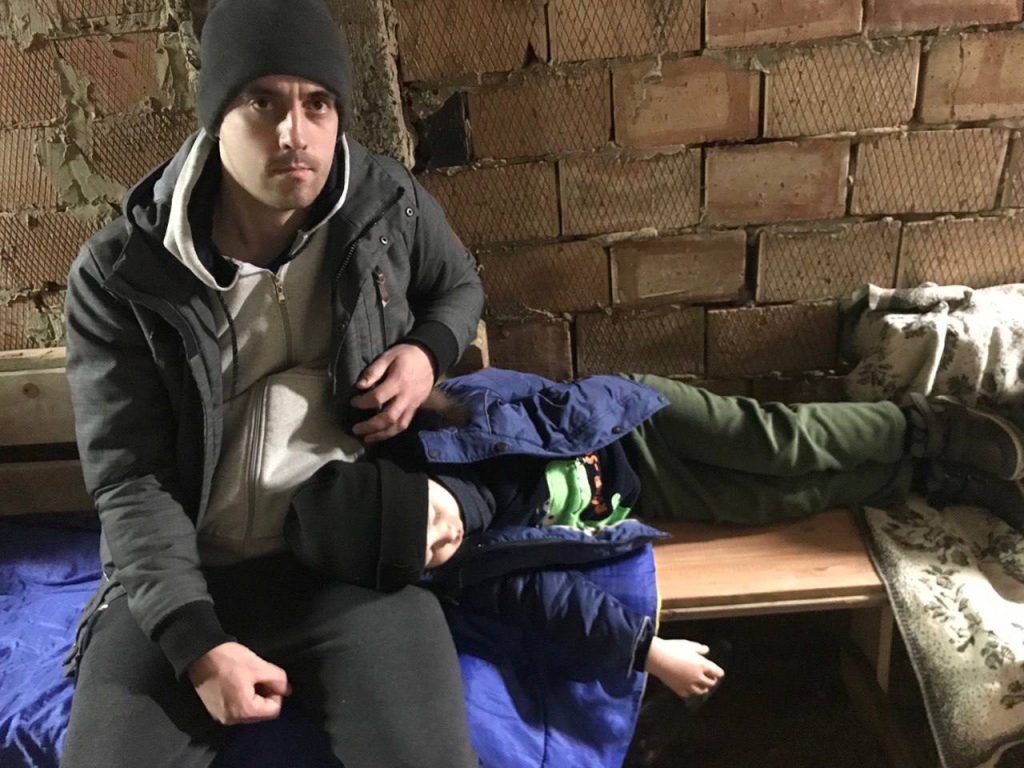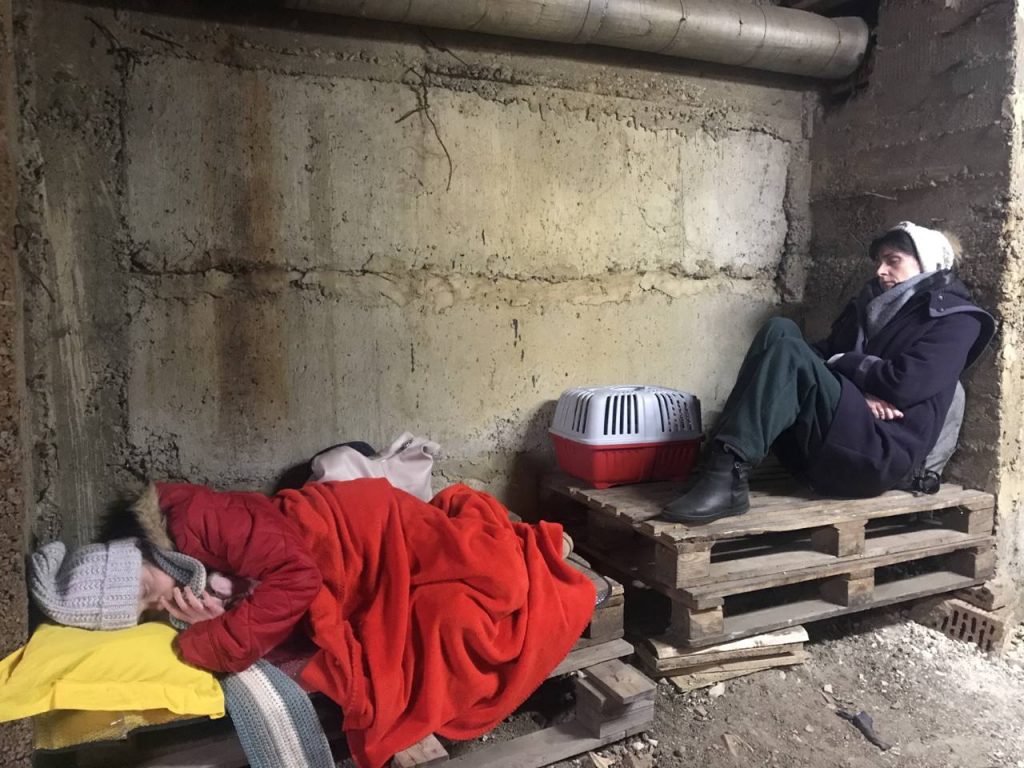 Mar 15, 2022 at 11 AM (PST): Pastor Sergey visited an apartment building hit the night before and took the video below. He texted a few minutes ago and asked for prayer as they are expecting more Russian attacks in his area tonight. He texted, "Remember the 'Immanuel' promise … God is with us whatever happens!"


Mar 14, 2022 at 3PM (PST): Our station in Slavyansk/Kramatorsk was hit with a missile and destroyed. That leaves FEBC Ukraine with five remaining FM stations. One of our staff, Konstantine, was also injured today. After removing his family to safety, he was heading back into Kyiv when he encountered Russian soldiers who opened fire. He was able to escape, but had shrapnel injuries in his leg. After two surgeries in Kyiv, he is recovering. We are thanking God for protecting his life! The images below were taken in Kyiv upon his return and show the damage from the Russian soldiers who shot at him.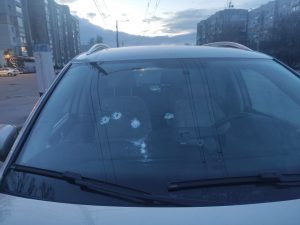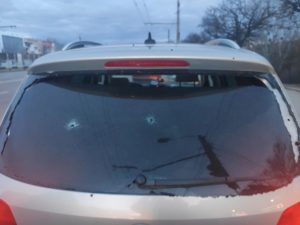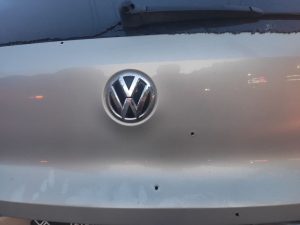 Mar 13, 2022 at 9AM (PST): Lead FEBC broadcaster, Olesia, asks for your prayers now. Please pray for those who are listening all over Ukraine, and for the FEBC team and their families. Our remaining six radio stations are still broadcasting the Good News. Several dozen staff counselors have been answering calls from listeners all over Ukraine whose hearts are breaking, who are afraid, who are grieving. They report that every day dozens are giving their lives to Christ. This is a great time of harvest for the Gospel even in the midst of such anguish and fear. Pray for God to sustain FEBC's ministry team as they continue to point many thousands of Ukrainian listeners to the Lord Jesus Christ.
Mar 12, 2022 at 3PM (PST): Pastor Sergey has remained in his church in Kyiv. Friends from all over the world have stayed in touch. Many are asking, "Pastor Sergey, what have you learned in these days of war?" This short video is Pastor Sergey's powerful response.
Mar 9, 2022 at 3:00 PM (PST): How are ordinary Ukrainians who are still in Kyiv able to survive? How are they able to buy food? Pastor Sergey gives us a walk-through of the local supermarket. Many shelves are empty, but not all. And even here, we can see the fingerprint of God's provision and mercy.
Mar 8, 2022 at 3:00 PM (PST): "God is our bulletproof vest," said a Ukrainian volunteer soldier to Rev. Sergey Nakul. He and other soldiers were asking for prayer because they lack basic combat gear. Up until this point, Nakul's pastoral ministry has been in the pulpit and investing his time in the daily lives his congregants. All that has changed. For pastors who have remained in Kyiv—unwilling to abandon their flock—battlefield evangelism and ministry to soldiers has become a daily reality. The emotional exhaustion, trauma, and grief is beginning to show. But Nakul's faith in God remains unshakeable.


Mar 7, 2022 at 2:00 PM (PST): The violence continues to escalate in Ukraine's major cities, but most of FEBC's ministry team have relocated to safer areas. The remaining six radio stations are still operational. We have transferred control of the remaining six radio stations to a western city, where there is relative calm. We continue to broadcast on multiple online platforms from our studios, as well as from bomb shelters, churches, and the streets. Even in the midst of such tragedy and horror, we see God's hand at work. Listeners are calling the counseling hotline, which is staffed by 25 trained Christian counselors. Understandably, the lines are ringing day and night – teenagers, mothers, soldiers, the elderly.
One of our broadcasters had a bomb go off near her apartment, destroying her room while she and her sister were inside. Praise God they were unhurt. Pictures of the aftermath are below. This is on the outskirts of Kyiv.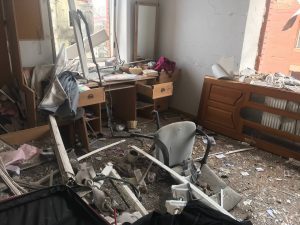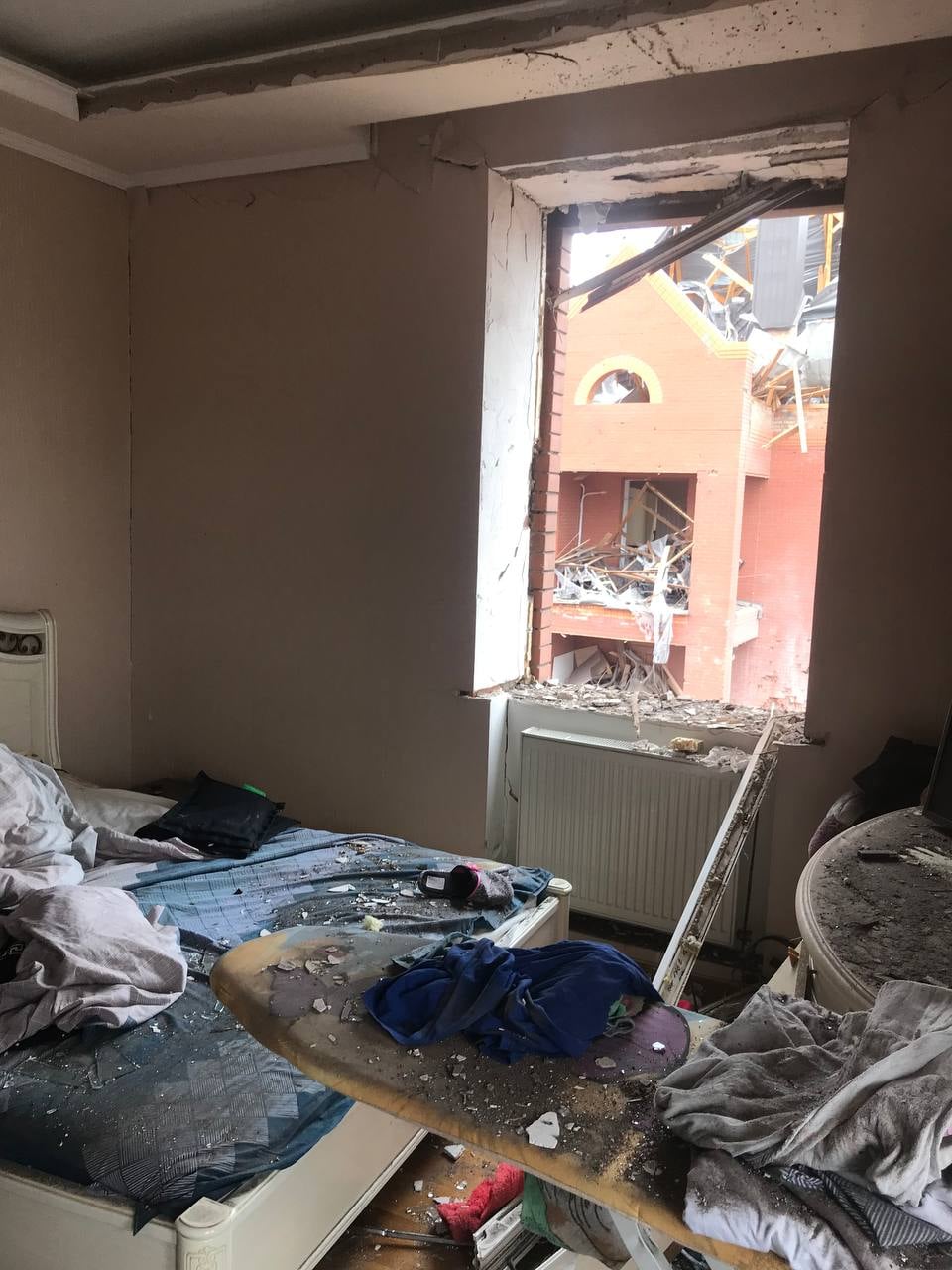 Mar 4, 2022 at 12:54 PM (PST): FEBC broadcaster, Dr. Eugene Sarapulov, is a trained counselor and has been to meet with some of the children evacuated recently from the embattled city of Mariupol. The number of families who have been separated in this crisis is staggering. They do not know if they will ever be able to return home.
Mar 3, 2022 at 7:48 AM (PST): From our team in Ukraine – we are asking Christians and churches everywhere to pray. Sometimes it is hard to know how to pray. We invite you to use this video in your church services, Bibles studies, and small groups. Send it out and circulate it on every platform at your disposal. The video below is FEBC's morning show host, Inna Tsaruk, who is an evangelist and prayer warrior, asking Christians everywhere to join in prayer with her. (Note that "Radio M" is how FEBC Ukraine's radio ministry is branded in that country…this is one and the same with FEBC Ukraine.)
Mar 2, 2022 at 2:00 PM (PST): The situation was already bad, but it is deteriorating. The video below is a personal update from FEBC broadcaster, Igor. Up until this point, his family has stayed in Kyiv, hiding in a bomb shelter in a residential neighborhood. But with two young daughters, ages one and five, and bombs dropping all around them, the option of staying in place may no longer be viable. This video was sent as an update on their current, personal situation.
Mar 2, 2022 at 11:00 AM (PST): Every member of the FEBC Ukraine team is still alive. Several remain in Kyiv. Please pray for God's leading about what they should do next. The remaining six radio stations are still on the air. We are praising God for the privilege of proclaiming hope in Christ in the face of so much war and death. Jesus is a firm foundation and nothing can shake those who belong to Him! Yesterday in a prayer call, Ukrainian broadcaster said, "Now is a golden moment for the Gospel … there are no more atheists in Ukraine." Please pray for boldness.
Feb 28, 2022 at 2:01 PM (PST): We were able to do a Zoom meeting this morning with the team joining from all over Ukraine. Everyone is still alive. Some of the team remain in Kyiv. Igor and Sergey, who have sent several video updates, are walking the streets of Kyiv and sharing Christ with those they are with. Igor just reported leading 20 teens to Christ today. The Holy Spirit is giving them courage and boldness, and people's openness to the Gospel is unprecedented in this moment of extreme danger. There was an explosion near the Evangelism Center building (our headquarters), but the studios are okay so far. Please pray for God to keep our team safe and for many to be brought into the Kingdom of God during this time.
Feb 27, 2022 at 5:41 PM (PST): Igor and his family are still in Kyiv. As the crisis in Kyiv began on Feb 24, Igor and Emma released a video from their apartment in Kyiv. Now they and their daughters are in a bomb shelter in Kyiv. Please continue to pray!


Feb 26, 2022 at 5:17 PM (PST): Everyone on the team is still alive. Praise God! The control of the radio network has now been transferred from Kyiv to the western city of Chernivtsy. Six out of seven stations are still on the air. We believe the station in Shastya is down, as this town is now 80% destroyed. We do not believe this signal is still on the air. However, the six stations along with live social media broadcasting is reaching thousands in real time. In addition, for several years FEBC Ukraine has been expanding a counseling helpline ministry with trained counselors who are posted all over Ukraine. They are taking calls almost non-stop. Nina, the leader of the counselor group, just sent a short update from the counseling team saying, "[We are] exhausted, but working non-stop. We cannot stop now." Normally we receive about 1,000 contacts a day. The volume is more than 4x greater, but the need is so great. How can we refuse to answer and pray with those who are terrified, anxious, and desperate? Please continue to pray!
Feb 26, 2022 at 3:18 PM (PST): Olesia, whose cell phone video was the first one posted on this page on Feb 24, made it with her family to Chernivtsy. From there she recorded this update on behalf of the whole FEBC team. We are still broadcasting the Gospel!
Feb 25, 2022 at 4:52 PM (PST): Cell phone video update received from FEBC's radio host, Inna Tsaruk, while fleeing Kyiv. Inna is a lead broadcaster in FEBC-Ukraine where she does a morning show. Almost every day, people come to the studio to meet with her, and she leads many people to Christ and connects them with churches, both locally and abroad. Even now, she is using social media as a broadcaster for Jesus.
Feb 25, 2022 at 4:00 PM (PST): We are still on the air in Ukraine. This is no small miracle. Our team is reporting that bombs are now targeting civilian targets like apartment buildings and preschools. Many of FEBC's teams have had to flee their homes in Kyiv, some are still on the road, others spent the night in bomb shelters. Below are posts from several of our broadcasters.
From our program director, Max: "Please continue to pray for our listeners, as they hear the message of Christ at this time. Our strategy is to reach millions of them using different accounts and channels. People need the Lord as never before." 
Igor, Radio Host: "I am really afraid for my little daughters. And I know that millions of others are as well. I am using Tik Tok to reach other young parents like me, telling them about the love of Christ in this frightening times." 
Inna, Morning Show Host: "I am on my way to a city in western Ukraine, still don't know where I'll end up. When I have access to Internet, I post short messages, encouraging my listeners to give their lives to Christ. I spent last night in a bomb shelter… cold, terrible smell, crying children, crying adults, howling dogs, scared of the sounds of exploding rockets. We appreciate your prayers so much, we can't stop ministering, but we need the power of God to continue." 
Feb 25, 2022 at 1:30 PM (PST): Still in Ukraine's capital of Kyiv, FEBC's Rev. Sergey Nakul, walks through his neighborhood, surveys the damage, and renews his call for churches everywhere to pray.
Feb 25, 2022 at 12:20 PM (PST): In this two-minute video recorded yesterday in Ukraine, Rev. Sergey Nakul, a local pastor in Kyiv and Gospel radio broadcaster, urges Christians everywhere to pray.
Feb 25, 2022 at 6:55 AM (PST): We are still broadcasting. We are all realizing afresh how powerful the Word of God is as we read it on the air. An unprecedented number of calls are coming from mothers who have young sons. Ukraine's president has mobilized and called upon all men of fighting age over 18 to defend the country and countless mothers are calling into our call lines distraught over their sons. Most of them evidently have never prayed before, but now they are calling in and asking for prayer for their sons. Some of our broadcasters have stayed in place. Some have now reached safer cities, like Lviv. Others are still on the road. As bomb explosions were heard in the background, we heard from one of the team who was on the road and talking by phone saying, "I am ready to be with Jesus…but if He lets me live, I'll do anything and everything in my power to share His Good News with Ukrainians."
Feb 24, 2022 at 4:17 PM (PST): All 7 of FEBC's radio stations in Ukraine are still on the air. With explosions audible around Kyiv, our program director made his way to the broadcast studio on foot during the morning hours to make sure someone was on the air to share the hope of Christ and to share from God's Word. Right now our programmers are literally reading the Word of God on the air. As one of them said, "Human words aren't working right now. We need God's words…" Listener response to call center counselors is 4x higher than ever before. This is a level of desperation we've never seen. [We will share more updates as they come in. Internet access may be intermittent out of Ukraine due to cyber-attacks and infrastructure destabilization.]
Feb 24, 2022 at 6:45 AM (PST): We are hearing reports of fighting in the Chernobyl zone. If there are serious explosions there, a radioactive cloud could cover Ukraine, Belarus, and Europe. Our program director, Max, walked the streets of Kyiv to the broadcast studio this morning and went on the air to proclaim to listeners, "Nothing is more powerful than the Word of God at this moment." FEBC's counselors are working non-stop, answering people's calls. Non-stop. Amazing and heartbreaking response, people are hungry for something real.
Feb 24, 2022 at 3:00 AM (PST): Igor and his wife share what they are experiencing in Kyiv. Their children sleep in the room next to them as the invasion intensifies.


Click here for Igor's update on Feb 27 from a bomb shelter in Kyiv.
Feb 24, 2022 at 2:00 AM (PST): Our broadcaster Sergey reports on the invasion from the capital city of Kyiv, Ukraine. Sergey and his family are sheltering in their local church. He shares his fears for his two sons who he is with, and for the number of friends he is hearing from who are on the front lines.
Feb 24, 2022 at 12:01 AM (PST): The invasion has begun. As of now we are still on the air in Ukraine. Explosions have also been heard in Kyiv where our main studio is.
Feb 23, 2022 at 8:07 PM (PST): One of our broadcasters, Olesia who lives near the front lines in Eastern Ukraine is fleeing with her family.