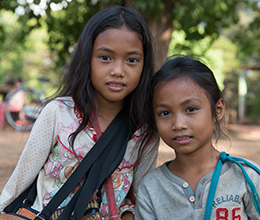 Background
Government: Parliamentary constitutional monarchy
Capital: Phnom Penh
Population: 16,449,519 (July 2018 est.) Khmer 97.6%, Cham 1.2%, Chinese 0.1%, Vietnamese 0.1%, other 0.9% (2013 est.)
Religion: Buddhist (official) 97.9%, Muslim 1.1%, Christian 0.5%, other 0.6% (2013 est.)
Languages: Khmer (official) 96.3%, other 3.7% (2008 est.)
Quick Stats
50% (7 Million) Within FM Range
Reaching People Beyond Borders
95% of the Population Practices Buddhism
In March 2002, Family FM 99.5 went on the air using a 500-watt transmitter. In January 2004, Family FM began broadcasting via a 10-kilowatt transmitter, allowing the station to reach a potential audience of half the country's population. In November 2014, a new 10 kilowatt Nautel transmitter was installed, allowing Family FM to reach almost 2/3 of Cambodia's population. In October 2016, a 500 watt relay station in Kampong Thom Province was launched (99.8) to reach provinces previously unreachable.
Latest Stories
Featured Video
"How, then, can they call on the one they have not believed in?
And how can they believe in the one of whom they have not heard?"
—Romans 10:14 NIV
You can help put hope on the air. Everywhere.
Your generosity today will help reach the unreached with the Gospel through radio broadcasts and digital media in over 141 languages in 50 countries.
Help Reach the Unreached Today!