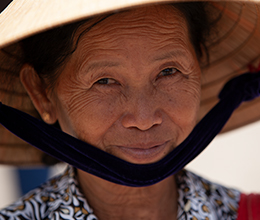 Background
Government: Communist state
Capital: Hanoi
Population: 97,040,334 (July 2018 est.) Kinh (Viet) 85.7%, Tay 1.9%, Thai 1.8%, Muong 1.5%, Khmer 1.5%, Mong 1.2%, Nung 1.1%, Hoa 1%, other 4.3% (2009 est.) Note: 54 ethnic groups are recognized by the Vietnamese Government
Language: Vietnamese (official), English (increasingly favored as a second language), some French, Chinese, and Khmer, mountain area languages (Mon-Khmer and Malayo-Polynesian)
Religions: Buddhist 7.9%, Catholic 6.6%, Hoa Hao 1.7%, Cao Dai 0.9%, Protestant 0.9%, Muslim 0.1%, none 81.8% (2009 est.)
Quick Stats
Local Broadcasts In 20 Minority Languages
300,000+ Listeners Via Mobile Devices
Community Development Through Local Church Partnerships
On April 1951, FEBC added Vietnamese broadcasting to our schedule. In 1966, the first Vietnamese programmers joined FEBC staff in Manila. For the past 60 years, FEBC has shared Christ and impacted lives in Vietnam – one of the few remaining Communist countries in the world – through our radio broadcasts. Our influence has continued to grow in spite of challenges, reaping an incredible harvest of souls as men and women hear the Good News of Jesus Christ.
On April 1975, South Vietnam was overtaken by the North. Our Vietnamese staff were evacuated and relocated to the US, where they established the Vietnamese Department. "Nguon Song Radio" has aired uninterrupted to Vietnam ever since. In May 2001, production began for our Minority Language broadcasts that continue to this day.
Latest Stories
Featured Video
"How, then, can they call on the one they have not believed in?
And how can they believe in the one of whom they have not heard?"
—Romans 10:14 NIV
You can help put hope on the air. Everywhere.
Your generosity today will help reach the unreached with the Gospel through radio broadcasts and digital media in over 145 languages in 50 countries.
Help Reach the Unreached Today!