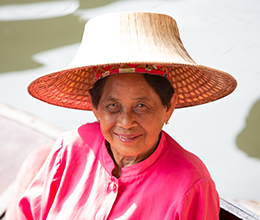 Background
Government: constitutional monarchy
Capital: Bangkok
Population: 68,200,824 (2016 est.) Thai 95.9%, Burmese 2%, other 1.3%, unspecified 0.9% (2010 est.)
Language: Thai, English, ethnic and regional dialects
Religion: Buddhist (official) 94.6%, Muslim 4.6%, Christian 0.7%, other 0.1% (2000 census)
Quick Stats
Local Broadcasts On 32 Stations
Developing Relationships Through Direct Correspondence
International Broadcasts In 17 Ethnic Languages
In 2020, 4.5 Million Thai Listeners Responded!
During the difficult days of 2020, when many countries found themselves in lockdown due to the pandemic, our team in Thailand provided hope and support to listeners. Here's just one of millions of responses that flooded our Bangkok office:
"I've felt uneasy in my faith for some time. I've longed for a firm faith and peace of mind with Jesus Christ. My friend gave me your radio schedule and told me that FEBC is sure to encourage me. He told me to tune in through the internet. I began listening immediately and my heart was filled with a peace like no other. I want to sign up for your Bible Correspondence Course. Praise god for FEBC!"
FEBC Thailand FAQs
Q: Is Thailand a Buddhist nation?
A: Yes, there's a saying in Thailand: "to be Thai is to be Buddhist," but people also have the freedom to choose their own religion.
Q: What do most Thai people think about the Christian faith…and what do they think of people who follow the Christian faith?
A: Many Thai people think that Christianity is a Western religion. Therefore, if someone approaches them about Christianity, barriers go up right away. But Thai are very friendly and will listen to whatever someone has to say. Based on the Joshua Project, professing Christians are 1.3%. Evangelicals are 0.65%. However, it's exciting to see that annual Evangelical growth is 3.6%.
Q: What are some examples of the Buddhist culture prevalent in Thailand?
A: In less urban areas, it's common to see a devout Buddhist kneeling before a monk, offering him food or a gift to earn merit for their good deeds. Even in cities, it's common to see devout Buddhists kneeling before a golden Buddha praying and lighting incense at shrines and temples.
Q: What is most effective at breaking down barriers of the Thai culture and allowing a person to come to faith in Christ?
A: The best people to reach Thai Buddhists are Thai Christians, during moments when God opens doors, usually when they are hurting or in pain; then they may be more willing to be receptive. That's why radio and other forms of media spoken by indigenous Thai broadcasters are effective. In 2019, there was a great movement by God amongst indigenous Thai churches where hundreds of Thai were baptized in one day!
Q: Does FEBC Thailand offer much in the way of Internet-based broadcasts and/or access through Social Media?
A: FEBC has a strong presence on the internet and Apps, both iOS and Android. As common with other countries, the younger audience members use the internet and new media. Thus, we now have a new Youth Initiative program to reach the younger audience in Thailand. Our radio presence is throughout Thailand on 33 stations, so many of our radio listeners are older in age. FEBC offers our Gospel broadcasts on all platforms to reach people of all ages.
Summary of FEBC's Work in Thailand
In 1951, Thai language programs were produced in NE Thailand and aired by SW from the Philippines. The Christian and Missionary Alliance Mission (C&MA) assigned a couple to do this work with local believers at the request of FEBC. In 1952, they were killed while participating in a worship service.
Shortwave Thai broadcasts – produced by both FEBC-Thailand and a second Thai production studio – continued from the Philippines until 1976. FEBC-Thailand, with local broadcasts in-country and officially registered under the E.F.T.in 1969, has long maintained close ties with other missionary organizations in Thailand. FEBC- Thailand became very involved with emergency broadcasts and radio distribution following the 2004 tsunami and the 2011 Bangkok floods, and are still airing programs that offer counseling and hope to people living in the affected areas.
Latest Stories
Featured Video: Tan's Story
"How, then, can they call on the one they have not believed in?
And how can they believe in the one of whom they have not heard?"
—Romans 10:14 NIV
You can help put hope on the air. Everywhere.
Your generosity today will help reach the unreached with the Gospel through radio broadcasts and digital media in over 145 languages in 50 countries.
Help Reach the Unreached Today!