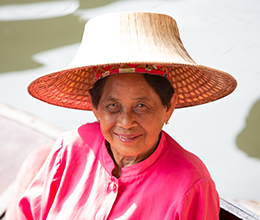 Background
Government: constitutional monarchy
Capital: Bangkok
Population: 68,200,824 (2016 est.) Thai 95.9%, Burmese 2%, other 1.3%, unspecified 0.9% (2010 est.)
Language: Thai, English, ethnic and regional dialects
Religion: Buddhist (official) 94.6%, Muslim 4.6%, Christian 0.7%, other 0.1% (2000 census)
Quick Stats
Local Broadcasts On 32 Stations
Developing Relationships Through Direct Correspondence
International Broadcasts In 17 Ethnic Languages
In 1951, Thai language programs were produced in NE Thailand and aired by SW from the Philippines. The Christian and Missionary Alliance Mission (C&MA) assigned a couple to do this work with local believers at the request of FEBC. In 1952, they were killed while participating in a worship service.
Shortwave Thai broadcasts – produced by both FEBC-Thailand and a second Thai production studio – continued from the Philippines until 1976. FEBC-Thailand, with local broadcasts in-country and officially registered under the E.F.T.in 1969, has long maintained close ties with other missionary organizations in Thailand. FEBC- Thailand became very involved with emergency broadcasts and radio distribution following the 2004 tsunami and the 2011 Bangkok floods, and are still airing programs that offer counseling and hope to people living in the affected areas.
Latest Stories
Featured Video: Tan's Story
"How, then, can they call on the one they have not believed in?
And how can they believe in the one of whom they have not heard?"
—Romans 10:14 NIV
You can help put hope on the air. Everywhere.
Your generosity today will help reach the unreached with the Gospel through radio broadcasts and digital media in over 141 languages in 50 countries.
Help Reach the Unreached Today!