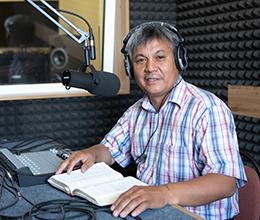 Background
Government:  presidential republic
Capital: Nur-Sultan
Population: 18,744,548 (July 2018 est.) Kazakh (Qazaq) 63.1%, Russian 23.7%, Uzbek 2.9%, Ukrainian 2.1%, Uighur 1.4%, Tatar 1.3%, German 1.1%, other 4.4% (2009 est.)
Languages: Kazakh (official, Qazaq) 74% (understand spoken language), Russian (official, used in everyday business, designated the "language of interethnic communication") 94.4% (understand spoken language) (2009 est.) (Total language exceeds 100% because many speak both)
Religion:Muslim 70.2%, Christianity 26.2% (Russian Orthodox 23.9%, other Christian Denominations 2.3%), Buddhism 0.1%, other 0.2%, Atheism 2.8%, unspecified 0.5% (2009 Census)
Quick Stats
Reaching Listeners on Shortwave & Internet
FM License Secured
Broadcasting Messages Online In 2 Major Cities
Our office in Kazakhstan was officially incorporated in June 2005 with the hope of establishing local FM stations in 2 major cities: Almaty and Astana. While we have made progress in securing required licenses for the FM stations, we are still waiting for the government to issue us specific FM frequencies. Until then, we are reaching listeners by shortwave and Internet broadcasts. The majority of people living in Kazakhstan are culturally Muslim.
Latest Stories
Featured Video
"How, then, can they call on the one they have not believed in?
And how can they believe in the one of whom they have not heard?"
—Romans 10:14 NIV
You can help put hope on the air. Everywhere.
Your generosity today will help reach the unreached with the Gospel through radio broadcasts and digital media in over 145 languages in 50 countries.
Help Reach the Unreached Today!