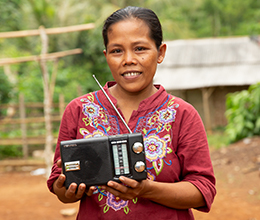 Background
Government: presidential republic
Capital: Jakarta
Population: 262,787,403 (July 2018 est.) – Javanese 40.1%, Sundanese 15.5%, Malay 3.7%, Batak 3.6%, Madurese 3%, Betawi 2.9%, Minangkabau 2.7%, Buginese 2.7%, Bantenese 2%, Banjarese 1.7%, Balinese 1.7%, Acehnese 1.4%, Dayak 1.4%, Sasak 1.3%, Chinese 1.2%, other 15% (2010 est.)
Languages: Bahasa Indonesia (official, modified form of Malay), English, Dutch, local dialects (of which the most widely spoken is Javanese) Note: more than 700 languages are used in Indonesia.
Religion:Muslim 87.2%, Protestant 7%, Roman Catholic 2.9%, Hindu 1.7%, other 0.9% (includes Buddhist and Confucian), unspecified 0.4% (2010 est.)
Radio is critical to our ability to share the Gospel with the people of Indonesia. Yet, right now, our station in the city of Makassar is in danger of going off the air due to lack of funding.
This nation of stark contrasts—and widespread spiritual need—is made up of more than 13,000 islands, where millions of men, women, and children live in huge, teeming cities or on distant islands and deep in rain forests. Radio remains vital in penetrating the lonely cities and remote regions where isolated people live without hearing the Good News.
Latest Stories
Featured Video
"How, then, can they call on the one they have not believed in?
And how can they believe in the one of whom they have not heard?"
—Romans 10:14 NIV
You can help put hope on the air. Everywhere.
Your generosity today will help reach the unreached with the Gospel through radio broadcasts and digital media in over 141 languages in 50 countries.
Help Reach the Unreached Today!