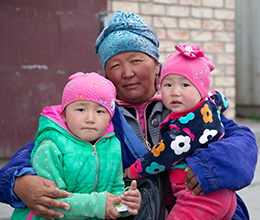 Background
Government: parliamentary republic
Capital: Bishkek
Population: 5,849,296 (July 2018 est.) Kyrgyz 73.5%, Uzbek 14.7%, Russian 5.5%, Dungan 1.1%, other 5.2% (includes Uyghur, Tajik, Turk, Kazakh, Tatar, Ukrainian, Korean, German) (2019 est.)
Languages: Kyrgyz (official) 71.4%, Uzbek 14.4%, Russian (official) 9%, other 5.2% (2009 est.)
Religion: Muslim 90% (majority Sunni), Christian 7% (Russian Orthodox 3%), other 3% (includes Jewish, Buddhist, Baha'i) (2017 est.)
Quick Stats
On the Air 24/7 with Daily Programs
Began Distributing Radios in 2013
Host Live Radio Events to Support the Community
FEBC Kyrgyzstan was officially incorporated in May 2012 when FEBC partnered with a local FM station in the capital city of Bishkek (FM 100.5 mHz, Radio OK). In June 2014, a new 1 kw Nautel transmitter and antenna was installed. Potential audience is now 1.5 million. In October 2015, we added a new station, FM 88.8 in Issyk-Kul, w/a potential listening audience of 500,000. In October 2016, a 1,000 watt repeater station – 88.3 FM – was launched in the city of Toktogul, with a population of 19,000. We present ourselves as a family-focused station, providing talk-shows on family matters.
Latest Stories
Featured Video
"How, then, can they call on the one they have not believed in?
And how can they believe in the one of whom they have not heard?"
—Romans 10:14 NIV
You can help put hope on the air. Everywhere.
Your generosity today will help reach the unreached with the Gospel through radio broadcasts and digital media in over 145 languages in 50 countries.
Help Reach the Unreached Today!